on
June 17, 2013
at
9:53 pm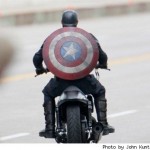 We were without power here at the Crisis On Infinite Midlives Home Office for the past several hours up until about fifteen minutes ago thanks to some truly impressive thunderstorms, and there is more thunder rumbling on the horizon. So for good or ill, my review / observations of Man of Steel will need to wait a while longer (although for a sneak peek, Google "Miracleman #15″) while I frantically try to get a post up before we're reduced to drinking warm beer in the dark and watching Amanda's four-year-old bootleg copy of X-Men Origins: Wolverine on her five-year-old Zune.
So in that spirit of quick, yet entertaining and informative: The Cleveland Plains Dealer has been doing a daily liveblog of the filming of Captain America: The Winter Soldier, and recently released some more pictures of that movie's principal photography. And several days ago they broke (and we rebroke) some of the earliest pictures of Bucky as The Winter Soldier… and now they have released some of the earliest pictures of Cap. And Cap's new costume.
And you can check those out after the jump.
↓ Read the rest of this entry…