…The Dead Will Seek A Cut: Tony Moore Sues Robert Kirkman Over The Walking Dead
on
February 10, 2012
at
7:16 am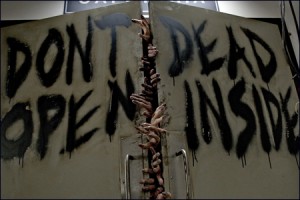 UPDATE, 2/11/2012, 12:30ish: Robert Kirkman's calling the lawsuit bullshit (Well, he said, "ridiculous," but my word's better), saying that his contract with Moore gives Moore 60 percent of the net on The Walking Dead comics and 20 percent of the net on the TV show, and that Moore's been paid accordingly. Now, as you can see in the conversation in the comments, generally a percentage of the net in Hollywood usually falls somewhere between jack and shit, but it, and Kirkman's assertion that both he and Moore had lawyers when they made the deal, clarifies the situation a little bit. (Update via Comic Book Resources)

There are reasons why my default answer to nearly any question is: "I'm not answering any Goddamned questions without my lawyer here," and here is a prime example:
Robert Kirkman, the famed comic book writer who helped create AMC's hit zombie series The Walking Dead, has been sued by a childhood friend and collaborator who claims he is entitled to as much as half the proceeds from the lucrative franchise.
If you're only a fan of the AMC Walking Dead television show and not as familiar with the comic, I won't even tell you to fuck off to some other comics Web site, but I will acknowledge that you might be responding to this news with a resounding, "…who?"
Tony Moore was a longtime collaborator of Kirkman's, doing art on early Kirkman-written indie comics like Battle Pope and Brit. Moore also did the art on the first six issues of The Walking Dead before being replaced by still-current artist Charlie Adlard, and Moore continued to do Walking Dead covers for another 18 issues before leaving completely to work on books for Vertigo and Marvel. Kirkman has implied that Moore went off the book because he was late… now I'm inferring that Moore's position is that he was "late" because Kirkman fucked him without contraception.
Upon learning the news about this lawsuit, my first impression was, "Huh… this seems a little out of left field considering that Moore shares co-creator credit on the TV show with Kirkman despite only doing six full issues, which I've always thought was a nice gesture considering most comic publishers dole creator acknowledgments out as stingily as Krusty The Clown in a state of coke hubris. At the very least, the credit would seem to imply that the rights question had been worked out long ago. What happened, Tony Moore's lawyers?
Moore claims he was told in 2005 by Kirkman that a big TV deal was on the table but "that Kirkman would not be able to complete the deal unless [Moore] assigned all of his interest in the Walking Dead and other works to Kirkman," according to the complaint. Thinking the deal would fall apart, Moore signed the contract, he says, allowing Kirkman to "swindle" him out of his 50 percent interest in the copyright and never intending to pay him his share of royalties.
That… is fucking unbelievable. In that it makes no sense. And if it happened, it is fucking stupid. Put yourself in Moore's position: you're the original artist on one of the biggest selling indie comics on the shelves. The writer calls you and tells you that there's a fat television deal on the table that will die on the vine unless you sign away the thing that makes you entitled to getting a piece of that fat television deal, so… you sign it? Why? What possible motivation would you have to do that, even if you thought the deal would die? That's like handing over a lottery ticket just because it might be – even probably is – a bust. Did Kirkman have Moore's mom hostage? Was it temporary insanity? Coke hubris? And if this is such a shitty deal, why didn't Moore have a lawyer look at it? And if he did, and that lawyer let him sign what Moore now claims is an unfair dud, why isn't Moore suing the fucking lawyer?
I guess the answers will come out in court… but what's Kirkman's response to the lawsuit?
Kirkman's attorney Allen Grodzky tells THR that the case is "totally frivolous. Mr. Moore is owed no money at all. And Mr. Moore's contract has an attorneys' fees clause in it so we will be going after him to collect attorneys' fees. We are taking this matter very seriously."
Yeah, no matter what, the lawyers always get paid, don't they? And usually, they're the only fucking ones.
So let this be a lesson to every creative team chucking projects up on Kickstarter: make sure your goal includes the cost of two lawyers. Not that you'll need two; it would just probably be nice to have an extra around to stab… if not to vent frustrations, if only to make the world a minutely better place.
(Via Newsarama and The Hollywood Reporter)