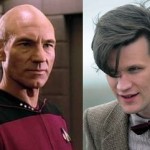 Bleeding Cool is reporting that IDW will be attending the Gallifrey One convention next week (February 17-19) with the purpose of announcing a Star Trek/Doctor Who crossover comic book series.
Did IDW just get tired of watching Amy Pond and Deanna Troi get it on while Riker watched in other people's fan fic?
Details Speculation after the jump!

…in May, IDW are to publish a Doctor Who/Star Trek: The Next Generation crossover series. Featuring The Doctor, Rory, Amy, Captain Picard, Worf, Data, Geordi LaForge, Deanna Troi, Will Riker and the rest. And that this art, featuring the Doctor, Rory and Amy on the bridge of the Enterprise is a cover that will be used in the series.
Which art you say?
This art:

Beyond whatever source contacted Bleeding Cool, there's nothing on either the Gallifrey One or IDW sites as to any sort of tease for this announcement. The guest list for Gallifrey One does include staff from IDW, which currently publishes several Doctor Who comic series. Star Trek authorian, Larry Nemecek is also on the guest list, but he could be there to promote his documentary, The Con Of Wrath.
If this crossover does happen, I'd personally like it to be in the form of a motion comic, if only so I can find an excuse to break out the Star Trek: TNG Drinking Game.
Drink when Riker gets the girl; chug if it's Amy. Point and laugh at Rory.