Crisis On Infinite Midlives came to being the week that DC's New 52 were gruntingly squirted into fruition. So the main story, on a week-to-week basis, has been the battle between the new DC books and Marvel trying to catch up, with the odd (excellent) indie book like Luther Strode, The Boys and Witch Doctor to keep things interesting.
That was September, 2011. It's April, 2012, and the most exciting books of the week are Saga, America's Got Powers and The Secret Service. Where's your major-market comics publisher now?
However, we are still looking at a week with some major DC Batman titles, the first branchings of Avengers Vs. X-Men, and Mark Waid's and Greg Rucka's opening to their Spider-Man / Punisher / Daredevil crossover The Omega Effect. And either way, be they Picassos or stick-figure Batmen, that lineup means that this…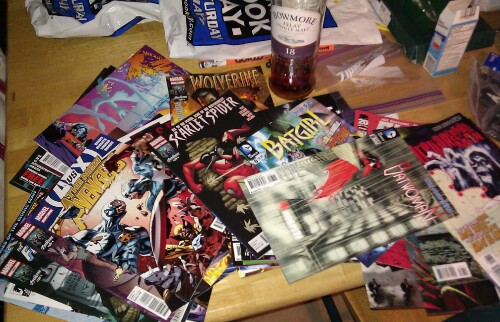 …is the end of our broadcast day.
But either way, even disregarding the aforementioned stellar books, look at the rest of the take: Jason Aaron's last Wolverine, a new Scarlet Spider, Kyle Higgins's last Deathstroke (an aggrieved soon-to-be-lost favorite here at the Crisis On Infinite Midlives Home Office), and even the first issue of The Bionic Woman, sure to be true-to-form to those of us who were grievously disappointed by that spinoff when we were Six Million Dollar Man fans back in  1978!
But as usual, before we can review any of them, we need time to read them. So until that day: see you tomorrow, suckers!