on
June 25, 2012
at
8:43 pm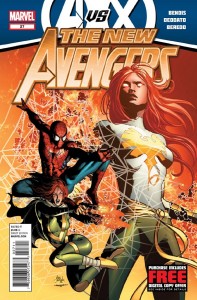 Editor's Note: With great spoilers, comes great douchebaggery. I learned that lesson from my Uncle James. Yup. Good old Uncle James Beam. Died sticking up some old fart at gunpoint.
The final four pages of New Avengers #27 are amongst the most affecting and most emotional of the entirety of the Avengers Vs. X-Men event to date. It humanizes Hope in a way that has been missing in the event in favor of showing her alternate between a willful little whining brat and a cocky willful little whining brat, and it gives Spider-Man not only a logical and effective (if small) role in a cosmic apocalypse that should be completely out of his league, but it distills, in just a few short panels, the essence of the character and what he's about better than six hours of Sam Raimi Spider-Man movies did. And it is Goddamned gorgeous to look at, besides.
Unfortunately, this is a 20-page story. Which further unfortunately means that what we got here is sixteen pages of decompressed life support for those spectacular closing four pages, that spins out a story conceit based purely on what was probably a simple lack of costume and coloring design communication between John Byrne and Gil Kane back in the mid-70s. On the fortunate end of the equation, those are sixteen pages of decompressed life support written by Brian Michael Bendis, meaning that they are filled with entertaining dialogue and some decent character beats… even while the best part of the book could have been presented as an interlude in the main event's title.
↓ Read the rest of this entry…