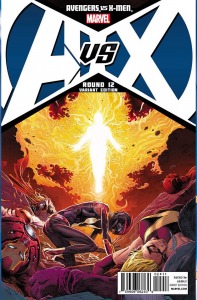 EDITOR'S NOTE: No more spoilers. Actually, a lot more spoilers.
Avengers Vs. X-Men #12 is a hard book to review because it endeavors to do a whole lot of things all at once. First, it needs to resolve the fact that Dark Phoenix is running around in the body of a petulant dink, and it generally accomplishes that. Second, considering the story was about two linchpins of the Marvel Universe, they had to, pretty much for the first time since the series started by showing Cyclops acting like he was one bad night away from handing the X-Men Nikes, track suits and tainted Kool-Aid, introduce some ambiguity as to who the good guys and the bad guys were, and it accomplishes that damn well.
However, one of the things it needed, and tried, to do, was rehabilitate the Scarlet Witch after the events of Avengers: Disassembled in 2004, when she single-handedly wiped out pretty much all the mutants in the 616. It also needed, given the commitment by Marvel editorial to integrate the X-Men back into the more mainstream, non-mutant based books, to make sure that there were actually X-Men around to add to the Avengers books. And it certainly accomplishes both of those things, but it does it in a strangely unsatisfying way, a way that feels like the decision was made that many of the main events of the past seven or eight years of Marvel stories simply don't matter. It is the final nail in the events of Disassembled – Hawkeye's alive again, the Vision's back, and now the mutants are all returning – and it feels like someone at Marvel, be it Axel Alonso or Joe Quesada or Brian Michael Bendis or Ike Perlmutter, dusted off their hands and said, "There! Now we're back to 1999!"
We make a lot of jokes here at Crisis On Infinite Midlives about how vehemently Marvel protests that they don't reboot, but make no mistake: Avengers Vs. X-Men #12 is a reboot. The only question is: it is a good one?