Killing In The Name: Avengers Academy #32 Review
on
June 26, 2012
at
8:29 pm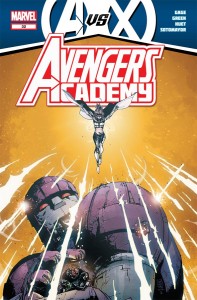 Editor's Note: This Sentinel's Prime Directive: Ruin or spoil all stories about mutants.
Being a cynical and ironic child of the late 1980s / early 90s, there isn't a reason on Earth why I should like Avengers Academy #32. It is naked and blatant in its attempts to manipulate the reader's emotions by placing children and their pets in mortal danger from a cold and callous external threat. It blatantly pulls the old E.T. trick of making kids the emotionally satisfying voice of emotional trueness in the face of cold and calculating adult logic and compromise, and it even alludes to the old Old Yeller tearjerker moment when it isn't obviously humping the corpse of Short Circuit. Truly, a book like this should have me sneering disdainfully while listening to Nirvana on my way to a Richard Linkater film and slacking. Or something like that.
With all that said, it's now 2012, and the other day I almost got weepy when the Boston Red Sox traded Kevin Youkilis. So I don't know if I'm losing my edge or what, but rather than being turned off by the obvious emotional manipulation going on in this comic book, I found it to be one of the best of the week. So either writer Christos Gage is damn good at what he's doing, or I am turning into a colossal pussy. Regardless: I liked this book.
Avengers Academy #32 is part of the Avengers Vs. X-Men event, taking place shortly after The Phoenix Five (Appearing soon with The Coasters and The Beach Boys at a county fair near you!) absorbed the Phoenix Force and started fixing the world, as depicted in Avengers Vs. X-Men #6. The war hasn't obviously hit Avengers Academy here, as X-23 is wandering around, getting in people's shit complaining about student Juston Seyfert and his pet Sentinel. Yeah, a mutant-killing Sentinel that Juston has reprogrammed to be loyal to him… by driving the "kill all mutants" directive down the memory stack to somewhere between "protect Juston and his friends" and "Juston always deserves a happy ending." Then Phoenix-possessed Emma Frost shows up, and all hell breaks loose.
That's the plot… but there is a hell of a lot else going on here. The parallels that Gage draws between characters and their conflicting motivations in the face of this situation are Goddamned masterfully done, and add one hell of a lot of ambiguity to what seem to be cut-and-dried desires and decisions to each of the characters. It makes complete and total sense that mutant Wolverine clone X-23, a mutant, would want a machine built to kill destroyed… until Juston points out that X-23 was cloned and trained to be a killing machine herself. It is simple logic that Hank Pym would make the decision to surrender the Sentinel to Emma Frost to save the students because the Sentinel's just a machine… until Striker reminds Pym that Pym's former love Jocasta was also a machine.
Gage packs moments like these into the books, along with moments that, yes, are blatant attempts to manipulate our emotions to hammer the stakes of the book home. Yes: it is a cheapjack move to tweak your heartstrings by seeing X-23 in a position where she is forced to decide whether or not to kill a small animal, and yes: seeing a child weep over the impending death of his best friend is one of the most cynical ways to induce tears, second only to pepper spraying you while yanking out your nose hairs with pliers. But just because these moves are obvious doesn't mean that they're not effective.
By combining obvious plays for emotion with effective motivational ambiguity in the prime movers of the story, Gage effectively creates a story that sucks you into the struggles of the characters, and gives reasonable and logical reasons for people who were working at cross purposes on page one to come together in one of the most thrilling lost-cause cliffhanger endings of the past few weeks. It is an ending that could only be made more satisfying if you happened to be listening to Rage Against The Machine's Killing In The Name when you read it.
The book's art by Timothy Green II is solid and workmanlike, if not spectacular and stylized. That's not a bad thing. His stuff is finely detailed and clear, but with a weird mix of what appears to be a combination of manga and  90s-style X-Treme influences; the eyes are somewhat big, and the bodies generally realistic (although the women are all kinda wasp-waisted with normal-sized breasts, which screams Sailor Moon to me, but not in a way that utterly compels me to masturbate), while some of the faces have Liefeld-style crosshatched details on them… but done lightly, like on some level he knows that he shouldn't be doing it. Still and all, his storytelling is clear and easy to follow, and his panel placement is clear enough as to not be intimidating or confusion; so while his style isn't one that totally works for me, it serves the story well enough.
Viewed from one angle, this story is a blatant and cynical attempt to play on your emotions to suck you in. From another angle: those attempts work. This is a damn fine book that will make you care about the characters and damn near make you fist-pump at the end. It is arguably the best book of the week, and that's from a guy who at eleven years old, didn't cry when E.T. died.
Then again, E.T. didn't have a .390 on-base percentage with 83 RBIs and a Golden Glove award on the way to taking the Sox to the 2007 championship, so, you know, fuck E.T.