Miracle, Man: Avengers Vs. X-Men #6 Review
on
June 23, 2012
at
11:00 am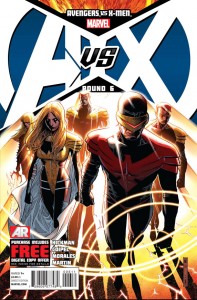 Editor's Note: Behold, I teach you the Spoiler! He is this lightning, he is this madness. 
Okay, so Avengers Vs. X-Men #6. Yeah.
Somebody's read Miracleman.
This book is the spitting image of the end of Alan Moore's Miracleman run; we've got superheroes with the power of Gods, who create a floating fortress above the cities of humanity. They use their powers to end hunger and drought, and make a dramatic statement to the United Nations flatly stating that all human conflict will end by their hand. This is a dead-on reproduction of the events of Miracleman #16, except instead of Warpsmiths we've got Phoenixes (Phoeni? Phoenixexces? Whatever.), and since we have Cyclops instead of Miraclemen, we have less detached alienation and 90 percent more colossal douchitude.
Don't get me wrong, that doesn't make it a bad comic book. It's actually a pretty solid read that establishes the power levels of The Phoenix Five (which sounds like either a group of southwestern political defendants or a failed Motown 70s funk group), introduces conflict within the Avengers over their mission to destroy the people who are apparently saving the world, and gives us a pretty powerful questioning of the standard tropes of the superhero story. Frankly, if someone takes over the world, but does it benignly and making it a better place for everyone to live, is it the place of superheroes to stop them?
In this issue, we establish pretty quickly that The Phoenix Five (Their radio single appearing on a K-Tel compilation record if you call now!) have improved the world, fertilizing deserts, widely desalinating oceans to create potable water, and offering humanity free energy, mostly via supervillain (I've often wondered why Electro fucked around with robbing banks when he could sell his farts for a buck a kilowatt). And yet, we have The Avengers planning frantically on how to stop them, fatally if necessary.
Writer Jonathan Hickman uses this built-in cognitive dissonance to introduce some satisfying psychological conflict within The Avengers. With Captain America and Wolverine single-mindedly pursuing any plan of action that will give them the power to stop (Free) The Phoenix Five(!), he also has Beast, a mutant himself, beginning to rebel against the idea of whacking out his old X-Men teammates, and Black Panther, who refuses to take part in overt action against the X-Men out of concerns that it might be seen as an attack by the nation of Wakanda. This is story with some depth, and it provides balance to the story's original prejudice against the X-Men, who were portrayed as nearly a suicide cult with spandex pants instead of a Nike fetish.
The second biggest problem with the story, however, is that Hickman nullifies much of the ambiguity by showing the X-Men as arrogant, preening cocks. We're shown Cyclops lording it over Professor X for ending human / mutant conflict (y'know, except for The Avengers trying to kill them), then tempting Hope with the Phoenix power before basically calling her an entitled Millennial snotnose, and then rescinding his statement to Hope that she could leave Utopia at will the second it looks like she might actually, y'know, leave. It would be a damnsight easier to really let the question of whether it is right or moral to stop a force that is improving the world if that force wasn't presented as embodied by the kind of preening know-it-all cocksucker you'd never be more then one Budweiser away from glassing in disgust. It places the X-Men, as they have been since the start of this story, as the villains, which reduces the power of the story.
The biggest problem is that this is still a story ripped straight from the pages from Miracleman. On one hand, this seems safe because after all, not many people have actually read Miracleman, what with it being out of print for damn near 25 years. But for those of us who have read it, the parallels are simply to numerous and obvious to ignore. It would be like writing a story about The Avengers trying to function in the real world while investigating who killed Captain American while Beast executes a plan to fake an alien invasion of New York to instigate world peace. You could make a good comic book about that – and again, in general, this is a good comic book – but it's not like you're not gonna know exactly where it came from.
In this issue, we finally switch from John Romita Jr. on pencils to Olivier Coipel, and for me, as someone who is not a Romita fan, you would think this would be a generally welcome change. Coipel gives good superhero, provided you like your superheroes 90s X-Treme. His stuff is fine lined, with a metric shit-ton of cross-hatched shadowing and detail lines. This kind of detail really serves backgrounds well, as the details give the environments extra dimension and weight. However, when it happens on the actual characters, well… if the old saw that every line on your face adds five years is true, none of these characters are less than 500 years old (Except Hope, who is apparently a sprightly 92). In addition, Coipel gives good head – wait, that came out wrong. What I mean is that all these people have fucking huge noggins. Scarlet Witch's face is drawn as bigger, softer and rounder than her jugs, which while different than mist 90s-style artists, is still pretty distracting. Still, his storytelling is reasonably clear and his panel layout is simple to follow. So while yet another artist not to my particular taste, hey – at least it's a change from Romita.
All in all, this is a pretty decent comic book that's struggling with the constant urge to make you want to thumb-rub the glasses of every member of the X-Men, and with the fact that its plot is completely derivative of Miracleman… which actually is, in its own way, the most exciting thing about this book. Because with the redesign of Ms. Marvel's costume to look very Miraclewoman-like, and the recent rebirth and death of Captain Marvel in Secret Avengers, this storyline might, just might, signal the coming reintroduction of Marvelman (The original name of Miracleman). And while this is purely speculation, it's just possible that it might mean that Marvelman might intervene based on similar experiences from his alternate universe past. Namely the Alan Moore and Neil Gaiman Miracleman stories. Hopefully to include the completion of Gaiman's Silver Age and Dark Age stories.
For that reason alone, this issue is probably worth picking up.