Walk The Line
on
July 11, 2012
at
12:25 pm
Thanks to horrific jet lag, I was up and about at about 5 a.m. San Diego time, with Amanda dead unconscious and nowhere to hide except the hotel room bathroom, and, well, a man can only shit so much before he gets antsy. So I ventured out to take a little just-past-dawn walk past the convention center, hoping to find that maybe a Dunkin' Donuts had opened up sometime since last year's convention.
No such luck (Although the Starbucks downstairs was open, providing something close enough to coffee to prevent me from dying), but I found that the Gaslamp District is busily in the process of being nerded up for the convention proper tomorrow.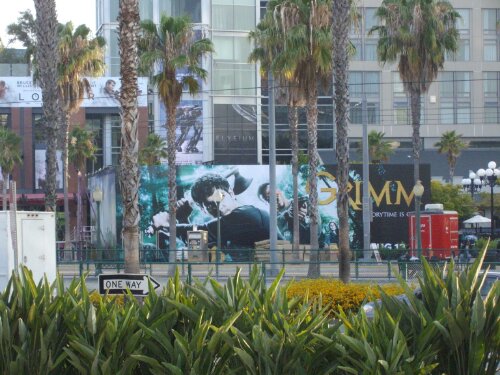 Also, it wasn't just the Twi-Hards that were lined up; at this point, there was a line of about twenty or thirty people queued up to get their laminates.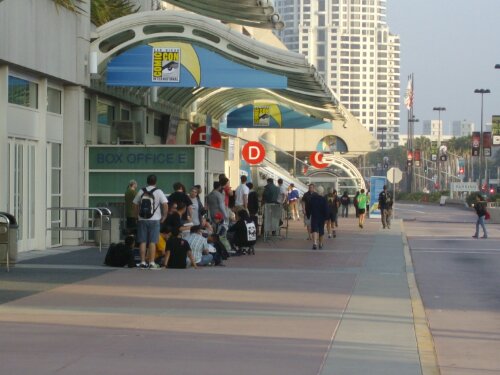 You know, when they open up the convention center for that. At about 3 p.m. today.
"What are you guys lined up for this early?" I asked the guy at the back of the line.
"Well, I want to hit the floor as soon as I possibly can. There are always some exclusives I want to get – there's some Hasbro stuff – and for a long time when I would come, I wouldn't have any kind of a plan, so I'd wind up wandering around and missing the stuff I really wanted by, like, two minutes. So I figured I'd line up and get that stuff out of the way up front so I could just enjoy the con."
"Yeah," I replied, "This is my seventh year, and it seems like there's always something I miss."
"That's Comic-Con, man; you gotta have a plan."
Further down, by entrance A and B, there was another line. "What are you guys lined up for this early?" I asked.
"We're trying to volunteer," one of them replied. That's Comic-Con for you; at 6 a.m. the day before the damn thing even officially opens, people are willing to line up to try and spend a day working in the hopes of being able to get a pass and get on the floor.
We're off to hunt up some food and see if anything else is going on before the center opens for getting laminates and Preview Night actually opens later this evening. We'll have more later.