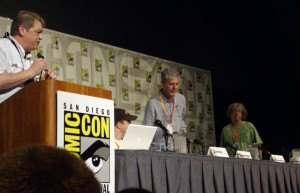 Most of the SDCC 2012 panels we covered, we did thusly: I sat with a fat boy notebook and a pen, furiously taking notes and grabbing quotes in between taking photos of things that panelists would prefer I didn't, while Amanda live-Tweeted the hell out of everything anyone said. As such, we walked out of each panel with a wealth of information and still photographs of each panel, but without an ability to truly absorb and enjoy some of the things we saw and heard.
The Vertigo Comics panel for the graphic novel Get Jiro was different. Amanda is a big fan of Get Jiro writer and celebrity chef Anthony Bourdain's TV shows A Cook's Tour and No Reservations, and as such, she hissed at me at the start of the panel, "I will Tweet this pig, but we've already reviewed the book, so I want you to videotape as much of this as you can so that I can enjoy it later. Otherwise, you're reading me Kitchen Confidential through the bathroom door while I bubble bath with the shower massager. Again." Or something like that, the vehemence of the hissing might have led me to hear more than was actually said.
Regardless, I therefore have a bunch of reasonably clear video of a good chunk of the Get Jiro panel… and I am passing the San Diego hotel and SDCC pass savings onto you! So grab your laptop, hit the jump, sit back in a warm bath with your shower massager, and never tell me about it.