Image United: Supreme #66 Review
on
August 21, 2012
at
9:13 pm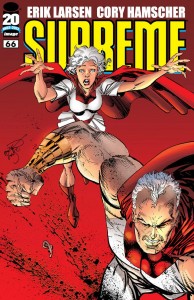 EDITOR'S NOTE: Look, up in the sky! It's a bird! It's a plane! No, it's Super – nah; it's just spoilers.
Alan Moore's run on Supreme, back when it was part of Rob Liefeld's Awesome Comics imprint in the mid-90s, was a classic of the superhero genre in an era that brought us The Spider-Man Clone Saga, the death of Superman, and nearly every other comic book that wasn't Starman, Hitman, Preacher or Channel Zero (my pull list was a lot shorter and cheaper between, say, 1995 and 2000). It was a simple concept: examine the character of Superman using a pastiche character, using versions of Superman's Silver and Bronze age history as canon, while placing that character in the modern world of the 1990s, all about fifteen or so years before All-Star Superman was a glimmer in Grant Morrison's baggie of peyote.
What with Liefeld resurrecting the comics under his Awesome imprint under the Image proper label, bringing back Supreme was a gimme, especially considering Alan Moore's script for issue 63 had been written, but never produced, what with Awesome folding back in 2000. Moore's final issue dropped a couple of months back, with Image partner Erik Larsen taking over writing and art in the subsequent issue. And Larsen is no Alan Moore. No one is… but in Supreme #66, he gets the broad tones and feelings right while updating Supreme for the 2010s. The question is: is that enough?
The answer is: kinda.
This issue opens with Supreme alter ego Ethan Crane and Lois Lane pastiche Diana Dane (to whom Supreme has been slipping the Meat Supreme, which despite the name is not an offering at Hardee's, if you get my drift), discovering the after effects of "The Revision," which seems to be a universe / reality changing event (truthfully, I kinda missed the last issue, so I'm kinda guessing here). Following the revision, Crane discovers that his apartment building is missing, his employer, Dazzle Comics, has been replaced by a coffee shop, and Dane apparently has a boyfriend that Crane was unaware of… and based on Dane's reaction, is a constant between the pre- and post-Revision worlds. In the meantime, unbeknownst to Crane, there's some alternate universe version of Supreme running around, personifying Supreme-as-Superman during that era when Superman was running around chopping people up and literally blowing their brains out. You know, Superman from the Punisher Age, which is a thing that I just made up. This version of Supreme is running wild, killing criminals and subduing Suprema before being confronted by one of the major heroes of the post-Revision universe… Omni-Man. Yup – Invincible's Viltrumite father from Image Comics's Invincible.
So, we've clearly got a few things to discuss here, the first being Crane and Dane (hey! I'm a poet! And I didn't even know that I was a douchebag!)  and their reaction to their situation. Frankly, they don't have a hell of a lot to do here besides wander around acting all befuddled. They establish that they are in a different, unfamiliar world than they previously in, and that this world contains Invincible comic books (being sold in a comic store more populated and busy than my local comic store, where they know me by name and ask me not to ask the paying customers if they want to check out my Omni-Man), but other than the Diana Dane boyfriend reveal, they don't do much… and I'm not sure I bought the whole boyfriend thing. Let's say, for the sake of argument, that you and a superhero are in a strange world where almost nothing is familiar. In this new world – this world that is clearly not your own, populated by people and place you don't know – some dude on your answering machine says he's your boyfriend… and you cop to it and tell the superhero – your only chance of maybe ever getting home – to just go? Your workplace is now a Starbucks, and you personally make the comment that the entire city looks dirtier than your own; who's to say that your "boyfriend" isn't actually a homicidal fistfucking stalker in this world? Or your pimp? Or your contact at the underground sex reassignment clinic? I trust Larsen enough to know that there's more to this story that we will eventually find out, but the note of that sequence just rang false to me.
What worked better was the darker, alternate version of Supreme, which to me was clearly a call back to the "extreme" superhero characters of the late 80s and 90s – the timeframe of Supreme's creation. Larsen simply nails this depiction, from the 80s-style double entendre "catchphrases" commenting on the violence he just created, a la a Schwarzenegger flick from the mid-80s, to the I Am The Law attitude we saw in so many comic books from that time period. Further, Larsen's art on this alternate Supreme is different than it is in other characters in the book; where most characters are drawn simply, with  clear skin and Larsen's signature cartoony, all-iris eyes (Most of Larsen's characters are drawn wide-eyed, as if they'd just be given The Shocker, or discovered that their post-Revision "boyfriend" is Hannibal Lecter with Thalidomide syndrome), this Supreme has beadier eyes, a face and body packed with 90s-era Liefeld detail lines, and most importantly, his feet are rarely shown. Throw on top of it that unlike Crane, Evil Supreme has a Clint Eastwood-style receding hairline, and Larsen captures the look and feel of a Dark Age Image superhero perfectly. He makes him look like other in this world, which works admirably for the story.
And finally, there's the apparent integration of Supreme into the Image / Invincible universe… at least for now. My initial reaction to the reveal of alternate Supreme meeting Invincible's father was, "Oh, Christ; really?" but the more I think about it, the more I realize that I simply don't have enough information here to understand where this story is going. After all, we see Angry Supreme fighting Suprema before meeting Omni-Man… which implies that Suprema is also in the Invincible universe. Which is something that hasn't been seen before, but what does it mean? Has the Revision really integrated the two worlds? If it has, why is Suprema seemingly comfortable here while Crane is a bumbling spastic? We don't see Angry Supreme and Supreme in the same place; are these taking place in different worlds? What is happening here is ambiguous, and the more I think about it, and its possibilities, the more interested I am in coming back to see what's coming next.
If we're honest, we all know that Larsen will probably never make Supreme as fully interesting and groundbreaking as Alan Moore made it back in the 90s. But based on this issue, Larsen is continuing Moore's themes of using the character to explore the various ages and storytelling techniques of comics over various decades, and is using strong visual and character elements to hammer those differences home. While there was one potentially big character misstep, it's too early to tell whether what we saw was a misstep, or simply setup. All in all, Supreme #66 is one of the better attempts to follow in Alan Moore's footsteps I've seen in recent memory. Give it a chance.