on
September 14, 2012
at
9:08 am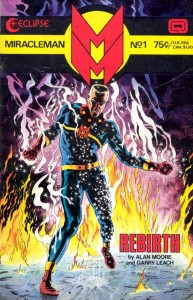 It can't be this easy. And make no mistake, it won't be… but as of a week or so ago, Marvel Comics now seems to have the rights to the trademarks of Marvelman and Miracleman, putting them under the same roof for the first time in… well, considering Dez Skinn started publishing Marvelman stories in Warrior back in the 80s without necessarily paying Mick Anglo, the character's creator know, maybe ever.
So here's how it apparently plays out… and let's all keep in mind that I am not a lawyer, I am not privy to nearly 30 years of discussions and legal paperwork, and I am quite hung over: Neil Gaiman settled the main part of his lawsuit against Todd McFarlane over the rights to the Spawn characters Gaiman created for McFarlane back in January of this year. But apparently there was still an outstanding issue: McFarlane had filed a trademark for the Miracleman character after he bought out Eclipse Comics in the early 2000′s, and Gaiman had, in turn, filed an opposition to that trademark. And that trademark has remained in dispute since then, even after the disposition of the original lawsuit, meaning that even though Marvel bought the rights to the Marvelman trademark from Anglo back in 2009, the trademark for Miracleman – which includes all the Eclipse-printed Alan Moore and Neil Gaiman stories form the 80s, which are the only ones anyone gives a fuck about – was still up in the air.
Well, whether as part of the terms of the settlement, or via sheer laziness or forgetfulness, it seems McFarlane has legally abandoned his claim to the Miracleman trademark. And on September 5th, Marvel Comics filed their own notice of trademark on the name.
↓ Read the rest of this entry…