on
December 10, 2013
at
7:08 pm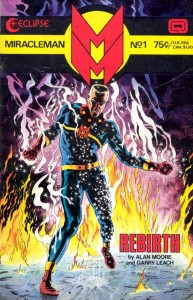 The first issue of Marvel's reprint of Miracleman, drawn by Garry Leach and written by someone Marvel is referring to as "The Original Writer" in order to avoid litigation, but who we will refer to as "The Cranky Old Bastard," will be released on January 15th, 2014, which, purely by coincidence, will be the same day that my original Eclipse Comics copy of Miracleman #1 plummets to a value where it will be less expensive to use as attic insulation than fiberglass.
While I have been excited for these reprints, it has only been in that they are precursors for Neil Gaiman's and Mark Buckingham's completion of their The Silver Age and The Dark Age stories that were scuttled in the 1990s when Eclipse went under. After all, I do own the complete original Eclipse run (including Miracleman: Apocrypha, Miracleman 3D and one or two of the trade paperback reprints of the original issues), so it's not like I need the reprints for the story. And sure, Marvel has announced that they're completely digitally remastering the artwork, but really: how much of a difference could that make?
A reasonable amount, it turns out. Marvel has released a few pages from that first issue to show off some of that remastered original Leach art… and it's looking pretty good. And you can check them out after the jump.
↓ Read the rest of this entry…