on
April 9, 2013
at
8:24 pm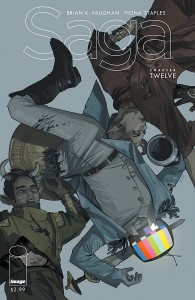 Update, 4/10/2013, 5:50 p.m.: As contributor Lance Manion pointed out in the comments, it turns out that Apple isn't the party that censored Saga #12. It was Comixology themselves. Details at the end of the original story, after the jump.
———————-
The Internet is an interesting place. It's a place where, by simply closing your eyes, pounding on your keyboard with your fist and pressing the Enter key, you can see pictures, in living color, of a woman with a substance abuse problem blowing a horse.
It is also a place where you can obtain anything that can be turned into ones and zeroes that you want, completely for free, much to the consternation of major media producers. But thankfully, most of those media producers have embraced the possibilities of the Internet, making their content instantly available to anyone with a credit card – you know, adults – instantly, and at a reasonable price. And all across a medium that only fifteen years ago was best known as a delivery vector for animal pornography and autopsy photos.
Well, unless you're trying to ply your wares through Apple's App Store. A company and a store who have, in their infinite wisdom, decided not to accept Image Comics's Saga #12 for sale via the iOS Comixology app due to two images of gay sex. Because God forbid that a consenting adult be allowed to decide to purchase a cartoon that includes two panels of sex acts on their iPad – a device widely used to make it possible to view and masturbate to high-definition pornography in a public toilet stall.
So, what with Apple acting in a manner similar to Wal-Mart and other prudish, yet powerful, corporate overlords who want to tell you what you can and can't read or watch, I imagine Saga creators Brian K. Vaughan and Fiona Staples, and their little publisher Image, have agreed to self-censor their book in order to gain access to iPads, yes?
Yeah, no.
↓ Read the rest of this entry…