on
April 9, 2014
at
9:52 pm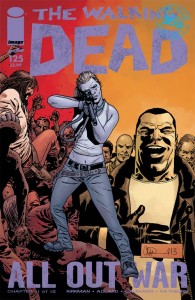 Editor's Note: Some kind of instinct. Memory of stories they used to ruin. This was an important spoiler in their lives.
Let me start be reiterating the spoiler warning in the first line of this review. I recognize that I try to get cute with my spoiler warnings, and therefore they might be missed by some people who want to cut to the chase and get pissed off by reading spoilers on a free Web site written by a drunkard who's spent almost two years complaining about the antagonist in The Walking Dead. I intend to spoil the living shit out of this issue. Starting now.
Thank fucking God that, after about 23 straight months of the rotten, one-note son of a bitch, someone has finally put the shiv to Negan. Granted, it happens at the very end of the issue, and since this is only part 11 of 12 of the All Out War storyline, he still has 22 pages to magically get someone to seal the gaping wound in his neck to still be a pain in someone else's, but I have waited since July of 2012, when Negan killed Glenn (which gets namechecked in this issue) to see someone actually hurt that wretched bastard.
I have been vocal about how slowly-paced things have seemed since Negan came on the scene to curse and threaten his way through The Walking Dead, so seeing him take a blade to the throat would have given this issue a thumbs up even if the other 21 pages were wordless Charlie Adlard ink washes of Rick trying futilely to crank himself off with his wrist stump. But that's not the case.
Instead, we have a rich issue filled with the aftermath of Negan's earlier biological warfare, some scenes of some serious jockeying in conventional warfare, and a whole bunch of sweet, sweet psychological warfare. Meaning that not only does this story meet the definition of All Out War, but it is the first really, really good issue of The Walking Dead in quite a long time.
↓ Read the rest of this entry…