October Surprise: Marvel Leaks Spoilers For The Ultimates #15
on
September 18, 2012
at
8:14 am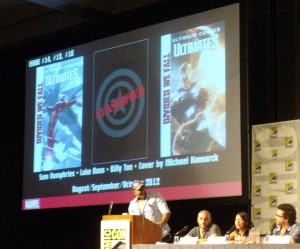 Back at the San Diego Comic-Con, Marvel Editor In Chief Axel Alonso and The Ultimates writer Sam Humphries teased a huge event occurring in The Ultimates #15. "This will be one of the biggest comics of the year… siesmic," Marvel's Director of Communication Artie Singh said at the time, showing off upcoming covers to The Ultimates while withholding the cover to #15 and further teasing that the covers for #14 and #16 they were showing weren't the final versions.
Which, at the time, felt like just some nifty hype; the entire panel in which this information was teased was far more hype and far less actual hard information. And I don't think I can remember an SDCC where someone from one of the Big Two publishers didn't say something like that, and usually the big reveal winds up being something stupid and ultimately inconsequential, like Wonder Woman buying a pair of pants, or Thor installing a pair of Truk-Nutz on Mjolnir.
Well, The Ultimates #15 will be out in comic stores tomorrow, and Marvel has leaked the big development to The Washington Post. Which means that, as a classic inverted pyramid lead, this article totally sucks, but I needed enough words (assuming "Truk-Nutz" counts as a word) to build in a cushion for the jump, to protect your tender little eyes from the big spoiler…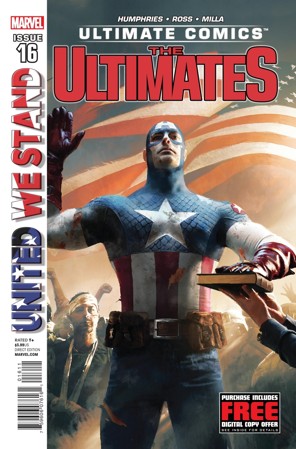 Captain America will be elected President of The United States in The Ultimates #15.
"We wanted to dramatize an extreme version of what we see in America today," Ultimates writer Sam Humphries says. "In the face of all [this] divisiveness, what do we have in common? What does it mean to be an American? What can we agree on? And what makes America the place that it is?"

"This is a United States that's being torn asunder by special interest groups — by opportunists looking to divide and conquer," Marvel Entertainment Editor-in-Chief Axel Alonso says in an exclusive to The Washington Post. "This is a metaphor for what goes on in real life, but on steroids."
If you've been following The Ultimates at all recently, you know that when Humphries and Alonso reference "special interest groups" and "divisiveness," they're talking about a United States that has split into about four or five different, seceded nations, all with superhumans, some with nuclear weapons who are willing to make a first nuclear strike against others. So before anyone gets up in arms that Marvel is making some kind of political statement for one party or another, keep in mind that "special interest" means less something like, "tax cuts for the wealthy," and more "nuke Baltimore flat."
This isn't the first time that Captain America has been bandied about as a presidential candidate in the Marvel Universe – Roger Stern toyed with it in Captain America #250 back in the 80s, and it led to an issue of What If where it actually happened. But this is the first time Marvel has thrown a qualified All In on the idea (qualified because it's only happening in the Ultimates universe), and it might actually be interesting. Frankly, the most recent arc of The Ultimates hasn't been doing a whole hell of a lot for me – seeing America in chaos feels a little close to Wildstorm's World's End crossover, when they created the apocalypse because, well, it didn't feel like they had a whole lot of other ideas and maybe they just said "fuck it." So maybe a bold move like this might kick the United We Stand story into more interesting territory…
…provided we don't get a bunch of issues of Steve Rogers in a suit and American flag lapel pin, signing off on drone strikes. Which, it seems, we don't have to worry about:
"Are we going to see 12 issues of Captain America behind a desk? No, that's not exciting to anyone," Humphries says. "Captain America is not going to behave like any other president behaves. He takes the oath of office and barely takes a breath as he goes to hot spots. . . . Cap is out there because he's so concerned about the state of the Union that he doesn't have time to think about the State of the Union."
So this could really move the Ultimate Universe into a really interesting space after months of what has felt like chaos for chaos's sake… or it could doom us to a 2016 story arc with Cap running against Tony Stark, who winds up being secretly taped saying he's not running on behalf of the 47 percent of Americans who aren't alcoholic billionaire superheroes… with the Ultimate Green Party putting up a candidate of the caliber that their real world counterpart normally runs with. I'm thinking D-Man. Or maybe Batroc The Leaper.