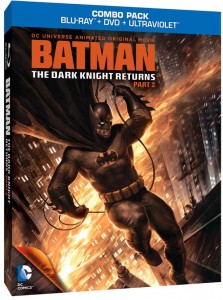 Over the New Year's holiday, we here at the Crisis On Infinite Midlives Home Office spent an entire day drinking whiskey and watching DC animated movies on streaming Netflix. We went through Justice League: Doom, Batman: Under The Red Hood, Superman Vs. The Elite, and All-Star Superman, all in one big throwdown. Because you can say what you want about Warner Bros. and DC and their inability so far to make a decent major motion picture that doesn't star Batman, but they are light years ahead of anything that Marvel's been doing in the animation space, and they have been for years. They just make good animated series and direct-to-video features, so clear and fun you can follow them despite, by the time All-Star Superman started bubbling down the magical pornography wire into the XBox, being so drunk we couldn't make our desires known to an establishment that only sells pizza.
But the one film we didn't stream was The Dark Knight Returns: Part 1, despite being excited by the teaser trailers that were released for that release back in July and August, because we are huge fans of Frank Miller's original comic series, and if we're going to watch it, we want it all in one whack.
And soon, our wait will be over; The Dark Knight Returns: Part 2 is scheduled to be released on DVD, Blu-Ray and video on demand on January 29th… and Warner Bros. has released another teaser trailer for the second part. This particular clip presents Batman stomping the living shit out of a heavily-armed SWAT team. Hang on while I get my Jack Daniel's, and let's meet up after the jump.

Yeah, it's still a little weird to see Miller's stylized Batman stuff moving around… but I cannot wait to see Batman battling Superman in Crime Alley, man. I can picture it now…
"Holy shit! This is in 3D! Where are my glasses?"
"It's not in 3D, Rob. You're seeing double. Go to bed."
(via Comics Alliance)