No One Can Pick A Nonexistent Lock: Detective Comics #23 Review
on
August 10, 2013
at
4:43 pm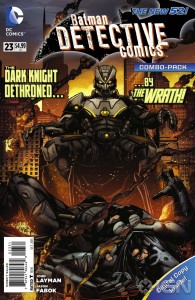 When it comes to Batman continuity in the post New 25 / Grant Morrison world, DC Comics really needs to get its shit together. Because for an editorial division that seems, based on constant hirings and firings and reports of last-minute story changes, to want to keep their hands on their creators' throttles (assuming "throttles" is what we're calling them now), they really don't seem to know what's happening in their own books at any given time.
Just last week, Morrison completed his story arc on Batman Incorporated. That series, as you might be able to tell somewhat by its title, is ostensibly about Bruce Wayne's public financing of not only Batman, but an army of regional Batman around the world. The events of Batman Incorporated are, at least in part, considered canon throughout the DC Universe, given the sheer number of recent issues I've read about Batman moping over the death of Damian. The introduction to this series was a scene, written by one of DC's most popular creators, where Bruce Wayne calls a press conference to announce that he is the man who finances Batman.
Welcome to Detective Comics #23, an issue where a significant plot point hinges on the idea that Bruce Wayne's financing of Batman's arsenal isn't common knowledge. But the good news is that giant continuity flaw is almost enough to mask the other gaping plot holes in the issue.
Batman has defeated Scorn, a new villain who has been hunting Gotham City cops. Batman recognized Scorn as a former small-time hood who was released from prison based on the promise of a job by E. D. Caldwell, another Gotham City billionaire, which foreshadows the idea that the idle rich in Gotham like dressing up in rubber suits just as much as billionaires elsewhere, only with 90% fewer buttplugs and rails of coke. Anyway, Batman describes Caldwell's corporate headquarters as one of the most secure buildings in the world, so Bruce Wayne agrees to meet Caldwell about a possible sale of Wayne Enterprises to get himself and Alfred into the facility. Once inside, Caldwell convinces Bruce to a little martial arts sparring on a rail-less mat suspended off the top of the skyscraper (you know, like most billionaires do. That's why Bill Gates is such a bad motherfucker), while Alfred infiltrates the Research & Development department. During the sparring, Caldwell says that he wants to buy Batman tech from Wayne, over Wayne's protestations that he has nothing to do with Batman's arsenal, while Alfred uncovers a massive arsenal that Caldwell apparently intends to use, as The Wrath, to wage war on the Gotham police. Meanwhile, Alfred is captured, while Caldwell attempts to capture Bruce and instead reaches Batman, and shit's about to get real, yo.
Here's the hell of it: on my first quick read through, Detective Comics #23 was actually a pretty fun comic book. We've got Batman growling at a criminal about busting his fibula, a little early fight between Batman and The Wrath, some corporate espionage, and an ending that puts Alfred in danger, meaning that, come the next issue, Batman's gonna be pissed. At a distance, those aren't the elements to a bad comic book.
But the first real problem comes from that big moment where Wayne denies having anything to do with Batman's technology. And that's just not the case. That really hasn't been the case for a couple of years now… I think. The events of Batman Incorporated as they relate to the continuity of other Batman comic books have always been played a little fast and loose by various editors and creators… although with sister original New 52 title Batwing having started with a member of Batman Incorporated being part of continuity, it's a pretty safe bet to say that Batman Incorporated is a thing in the DC world.
Which makes that key scene in this issue stick out like a sore thumb. Frankly, it popped me right out of the story… and the problem is that when I came back into it, I looked at it more closely, and things started to fall apart. Like, if Caldwell's building is one of the most secure in the world, why was Alfred allowed to wander around looking at shit? And yeah, I know, Alfred's Bat-Watch allowed him to hack electronically locked doors, but every secure building I've ever been in requires everyone inside to wear visible badges to identify them… including visitors, whose badges usually have "VISITOR" in big letters, and who are therefore discouraged from entering rooms with piles of weapons.
And I can buy that Caldwell allowed Alfred to wander around to see if there might be some connection to Batman… but why didn't that occur to Bruce? I mean, presumably the owner of Wayne Enterprises has been in a corporate headquarters before; wouldn't he be suspicious that Caldwell and his entire world-class security team were allowing Bruce Wayne's butler to wander about with no intervention? Hell, I've visited buildings in Boston where I'm not allowed to go to the fucking toilet without an escort to and from the crapper door, and those people were safeguarding insurance computer software. Either someone should have had Alfred in a hammerlock by the end of his second corridor, or else Batman should've recognized that he was being duped.
And frankly, flaws like these are like cockroaches: once you see one, you start seeing them everywhere. Like this one: why is Batman using his Bruce Wayne identity to break into this building at all? Sure, Batman's narration tells us that the building is a paragon of security… but the narration happens on the same page that artist Jason Fabok shows us Caldwell's rooftop sparring platform. You know, the one sticking off the side of the building, accessible from the inside penthouse via a giant glass archway. A giant glass archway with no fucking doors. You telling me Batman can't get to a roof and walk through an open archway? Trust me: Batman could get in there. Hell, D-Man could break into that Goddamned building.
Other than that error of forgetting to stick a door from the outside of the "most secure" building in Gotham City, I actually quite liked Fabok's art in this issue. His stuff is fine-lined and detailed (and between Greg Capullo on Batman, David Finch on Batman The Dark Knight and Tony Daniel on earlier issues of Detective Comics, that kind of style almost seems like the first job requirement for drawing a Batman comic book these days: "Fine detail work only. Irish and Sharpie Inkers need not apply."), and the guy draws good combat, chucking out a couple of iconic Batman poses against The Wrath in the early pages before moving to a decently-choreographed kung-fu fight between Bruce and Caldwell. But most interesting was his storytelling, which was generally pretty solid. I carefully scrutinized a lot of the panels, and Fabok did an excellent job drawing the reader back and forth across pages and panels, with people looking in directions to guide the eye back and forth, and the lines of bodies in motion doing the same to make decoding the page and keeping pace really simple. It's good looking stuff with pretty good storytelling chops… which is probably why I was able to breeze through it so quickly and enjoy it on my first read… until I started seeing the cracks in the story.
And it's a shame, because those logic problems amount to the death of what was a pretty fun story at first glance by a thousand cuts. We don't generally get enough Bruce Wayne using his own influence and social / professional contacts to help solve Batman's cases. And honestly, when I initially saw Bruce pressing Alfred, of all people, into investigative service, I thought writer John Layman was opening a door for a discussion about how the rest of the Batman Family have, at least temporarily, abandoned Batman in the wake of Death of The Family (or at the very least, use Alfred's presence as an excuse for someone, anyone, to say, "Pennyworth, eh? Any relation to that 'Penny-One' that Batman has suddenly started talking to on his cowl radio every time we see him?' to prove that at least one writer understands how stupid and obvious that "Penny-One" thing is). I mean, Jesus, Alfred was recently kidnapped and held by The Joker for several weeks, right? So Batman must be desperate to ask his father figure to put aside that trauma and go back into the field, right?
But in the end, those opportunities just slip by the wayside. Instead, we get a light little book, riddled with plot holes and logic flaws. If you're looking for a Batman story that you don't have to think about too much (and, in fact, shouldn't think too much about) and have an extra four bucks kicking around, you might be able to do worse than Detective Comics #23. However, there are better Batman stories out there this week; give one of them a shot instead.