on
November 26, 2013
at
4:20 pm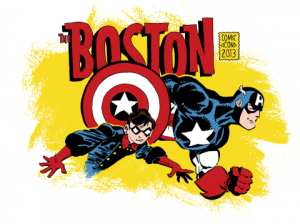 This year's Boston Comic Con was a hell of a surprise, going from a little con with mostly local talent, held in a hotel basement, in 2009 or so, to selling out two days at the Seaport World Trade Center – one of Boston's bigger convention halls – with programming and a double handful of A-List talent on the floor to boot. Sure, the convention showed a few growing pains – if you weren't in line by a certain time it took forever to get into the hall, and for the love of God, they need to stop clearing the programming rooms between each panel – but it was damned impressive nonetheless.
My biggest fear was that it was an anomaly. This year's convention was supposed to take place in a smaller hall in April and was displaced until August and the Seaport World Trade Center thanks to the Boston Marathon Bombing, which meant a few more high-profile guests signed on either to show support to the city or just because the timing was better. And initially, the word was that the convention was going to move back to April, but instead the organizers announced that they were not only sticking with August, but adding a day, going from Friday, August 8th to Sunday, August 10th, 2014.
Which was a good start… but a better sign is that the convention has already announced their first slate of special guests. And let me tell you: last year's A-List talent was no one-off fluke.
↓ Read the rest of this entry…