And as always, it is Wednesday, and this…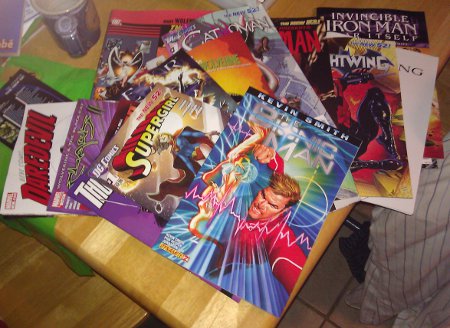 …signals the conclusion of our broadcast day. For the past couple weeks we've featured the week's New 52 releases – and yes, all 13 of this week's are in that pile – but it seemed like a good time to take a step back and prove that those aren't all that we read (I also read hardcore pornography! For the articles! Like when she screams "Aa!").
Tune in throughout the week as we review the best and worst of this week's new comics… And yes – at the top left you're seeing the new Marv Wolfman and George Perez retro Teen Titans graphic novel Games. Is the hardcover-only release worth the 25 clams? Shit, we don't know! Let us sober up, read it and get back to you!
See you tomorrow, suckers!