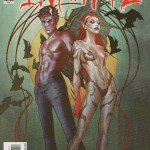 Stop me if you've heard this one: guy meets girl. Guy becomes vampire. Guy bites girl. Girl turns into psychotic hell bitch bent on world destruction. You have? Well, then apparently you've met my downstairs neighbor. Or, more likely, you read I, Vampire, either in its current release or in it's original incarnation, as a short story series in House of Mystery, when it was written by J.M. DeMatteis, between 1981-1983.
The relaunch is written by Joshua Hale Fialkov, whose run of good luck will soon see him taking over writing duties at IDW for Doctor Who as well. He is joined on I, Vampire by Andrea Sorrentino, whose work can previously be seen on God Of War and X-Files: 30 Days Of Night, published by Wildstorm.
Now, to the important question: should you read this book? Answers (and spoilers) after the jump.