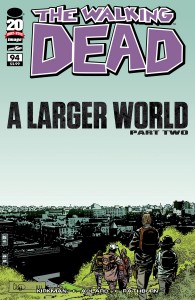 Well, Andrea's dead.
Oh, not literally; at the end of The Walking Dead #94, she's still walking around, hovering around Rick now that they've hooked up, vowing that she won't leave his side and leaving him filled with apprehension for her safety and us filled a feeling that Andrea must have a hair trigger to be this involved with a man with no dominantly coordinated hand. Either that, or that Colt pistol isn't the only Python that Rick's packing. But I'm digressing already.
The point is that early in this issue, Andrea says something that feels so much like the kind of line someone says in a horror movie right before they're run through by Jason Voorhees that I immediately thought that she might was well be wearing an "Eat Me (Not You Rick)" t-shirt. It's the kind of thing that any savvy horror movie fan would take to mean that it's time to butch up on your bladder control, because someone's about to get butchered. In other hands, it would be an amateur's move… but in writer Robert Kirkman's, it feels like it serves an important purpose. That purpose being that these characters feel indestructible. And, considering they are still living in the middle of a zombie apocalypse, they should probably stop doing that.