on
November 13, 2013
at
9:51 pm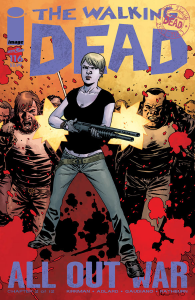 I have not been particularly quiet about my opinion that The Walking Dead has been spinning its wheels for a while now – you get Negan making threats, Rick and company come up with some kind of plan to turn things around, Negan sees said plan coming and turns it around with effortless ease and an erudite and witty comeback such as, "In case you haven't noticed, you're fucking fucked, you stupid fucker," – and yes, that was an actual quote from Negan from one of the last few issues – and you repeat and repeat and repeat until you start considering dropping the title and waiting for the trade for the first time since the seventh issue.
This seemingly endless cycle has been going on for at least 17 months, or since Negan killed Glenn… but with issue 116, we finally we have an issue of The Walking Dead where not only does something go wrong for that baseball bat-fellating son of a bitch, but where there's an actual live zombie attack. It's a Goddamned Christmas Miracle!
Well… Negan still says irritating cocky shit and gets a hostage out of the deal. So maybe it's more of a Thanksgiving Miracle. You know, the kind where you still have to put up with drunken racist Uncle Pete, but you avoid jail time for choking him out because for once, you get to witness him slipping on some gravy and falls on his ass.
↓ Read the rest of this entry…