Elseworlds: Batman: Earth One Review
on
July 8, 2012
at
5:16 pm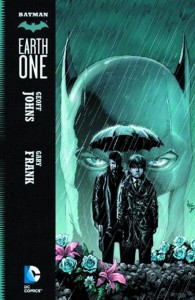 Editor's Note: In Crisis On Infinite Midlives, super-heroes are taken from their usual settings and put into strange times and places – some that have existed, and others that can't, couldn't or shouldn't exist. The result is spoilers that make characters who are as familiar as yesterday seem as ruined as, well, yesterday.
I want to start out by stipulating that Batman: Earth One, written by Geoff Johns and drawn by Gary Frank, is a damn fine graphic novel in almost every way. It takes characters and situations from the long history of the world of Batman and re-imagines then in ways that are generally compelling, interesting and ingenious. It adds a real-world feel to Batman that, while robbing the character of some of the most thrilling and stylized elements of the finest Batman tales, also grounds it and makes the stakes for Batman and everyone else in the story feel higher. And interestingly, it provides complete-feeling and satisfying story and character arcs for more than one character… Batman not necessarily being one of them. And the art is realistic and spectacularly detailed, to boot.
With that said, there are two character moments in this graphic novel that I had significant problems with, to the point where I feel that they irretreivably changed the nature of the character. For the better? Fucked if I know. It really depends on how much of a traditionalist you are… or how much you like Spider-Man. But we'll get to that in a minute.
As you may or may not know, DC's Earth One line of original graphic novels are set in an alternative universe separate from the standard DC Universe. In a nutshell, they're Elseworlds comics with an upscale price, designed to attract A-List talent to interpret some of DC's most iconic characters without having that talent do something dire to the characters' continuity, such as having them walk the Earth, or perhaps acquire pants. As such, Batman: Earth One is Johns's take on Batman's origin story, and he brings us in at the earliest possible moment. Well, not really; the earliest possible moment would have involved Thomas Wayne muttering, "Whoops! Sorry Martha, that's never happened to me before," but still: pretty damn early.
Freed from any continuity requirements, Johns gives us Batman As Fuck-up. Here, Bruce Wayne hasn't been trained by ninjas or master senseis or anyone other than Alfred (Presented here as a Wayne family friend who served with Thomas Wayne in the Middle East, and when I say "served," I mean the kind of service that includes carbines, not canapes. No butler here; Alfred was only in town at the time of the Wayne murders to take over their security). He has homemade gadgets that break all the time, and the only way you can say he moves gracefully across the rooftops if if your definition of grace includes waking up with multiple contusions in a pile of garbage below the ledge he failed to negotiate. It's a different take on Batman, even from other early-set Batman origin stories, yet one I found inspiring, since the level of competence shown here is as such that it means that even I could be Batman.
Further, Batman is shown here as being only motivated to find the killer of his parents. There is no greater mission to end crime throughout Gotham City, merely one to avenge his own loss. Which is a major departure from most depictions of Batman's origins, but one which makes sense here… and leads into one of the most… interesting choices that Johns makes in this book. That choice being that the murder of the Waynes is shown as being, at least partially, Bruce's fault. 
Basically, Bruce is shown as a selfish little snot who bolts the movie theater when the power goes out, mouths off to the armed robber, and winds up instigating the robbery in the first place. This is a completely different take on the origin of Batman, because it adds an element of guilt to Batman's origin that has never been there before. By making him a factor in the crime, it takes away Batman's motivation to end crime in a world where random cruelty is something to be railed against, and turns Batman into a selfish twat looking to find who did the crime so he feels better about himself. Which is an okay choice, I guess, but that's not Batman. It's Spider-Man. Only minus the "great power / great responsibility" motivation to continue past catching the criminal. Now, with that said: Johns provides Batman with a view of the world and its players during the hunt for the killer that makes him decide to continue past the primary mission, and that makes the decision to continue fighting crime a measured, adult choice. Which is compelling in its own way, and a very unique take on the character, but it makes for a Batman story that somehow doesn't feel like Batman.
Interestingly, the most compelling character arc in Batman: Earth One has nearly nothing whatsoever to do with Batman: it's Harvey Bullock's. Shown in the standard DC Universe as a bloated, drunken pig of a cop, here he's trim, enthusiastic, and even a former TV star on one of those true crime reality shows you see at 11 p.m. on TruTV when you're shitfaced. He's come to Gotham to try to solve the cold Wayne murder case to get himself enough publicity to get back into Hollywood's good graces… but this is Gotham City. And throughout the course of the book, we see Harvey go from outsider, to gritty rulebreaking Gotham cop, to shattered wreck on his way toward becoming the Bullock we're familiar with. It's a tragedy wrapped in a Batman story – far more compelling to me than even Batman's story – and a character arc that I can relate with. After all, the only difference between how Bullock and I ended up was the police career.
The art by Gary Frank is, as it always is, impressively realistic. Frank draws people that look like people; Batman is muscular, but not stylized in any particular way. He's drawn as a big dude in a leotard with a Batman mask that a real person might build and wear to fight crime… and therefore makes him look kind of ridiculous. This, however, is not a bad thing, particularly in a story where Batman isn't particularly effectual and even Alfred is telling him he's doing everything wrong. Frank's facial expressions are spectacularly realistic-looking and, well, expressive, from Bruce's haunted look following his parents' murder to the realistic distortions of Harvey Dent's face when Bruce cold-cocks him as a boy. Frank's action is realistic – think watching kickboxing versus the normal Bruce Lee film that is most Batman stories, which, again, fits the story here – and the storytelling and pacing are easy to follow.
All in all, this is a good comic book, but as an origin story, I liked Bullock's better than Batman's. Johns makes some bold choices with Batman here – it takes stones to release a Batman story showing him as not particularly good, with shitty gadgets and who winds up at one key point needing to be bailed out by Alfred… particularly after you've made Batman partially a product of his own petulance. But those choices give us a more measured, arguably adult Batman, and a decent alternative take on the character. It's worth checking out… but at 23 clams, you might want to wait for the paperback.