A Dream Of Flying (Again): Marvel Files Trademark For Miracleman
on
September 14, 2012
at
9:08 am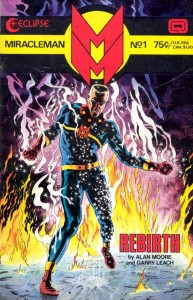 It can't be this easy. And make no mistake, it won't be… but as of a week or so ago, Marvel Comics now seems to have the rights to the trademarks of Marvelman and Miracleman, putting them under the same roof for the first time in… well, considering Dez Skinn started publishing Marvelman stories in Warrior back in the 80s without necessarily paying Mick Anglo, the character's creator know, maybe ever.
So here's how it apparently plays out… and let's all keep in mind that I am not a lawyer, I am not privy to nearly 30 years of discussions and legal paperwork, and I am quite hung over: Neil Gaiman settled the main part of his lawsuit against Todd McFarlane over the rights to the Spawn characters Gaiman created for McFarlane back in January of this year. But apparently there was still an outstanding issue: McFarlane had filed a trademark for the Miracleman character after he bought out Eclipse Comics in the early 2000′s, and Gaiman had, in turn, filed an opposition to that trademark. And that trademark has remained in dispute since then, even after the disposition of the original lawsuit, meaning that even though Marvel bought the rights to the Marvelman trademark from Anglo back in 2009, the trademark for Miracleman – which includes all the Eclipse-printed Alan Moore and Neil Gaiman stories form the 80s, which are the only ones anyone gives a fuck about – was still up in the air.
Well, whether as part of the terms of the settlement, or via sheer laziness or forgetfulness, it seems McFarlane has legally abandoned his claim to the Miracleman trademark. And on September 5th, Marvel Comics filed their own notice of trademark on the name.
Oh, I know what you're saying: "Rob," you're saying, "What does this mean? Please enlighten us as to how this affects the reprinting of the Moore / Gaiman Miracleman stories, and how it affects our ability to see the conclusion of Gaiman's The Silver Age and The Bronze Age stories that went unfinished when Eclipse went under in the mid 90s! Surely an undereducated layman with no legal training or first-hand knowledge of the case or its players can enlighten us!" Okay, lemme give this a shot.
At this point, it seems like Marvel has clear and unencumbered rights to publish comics with either the Marvelman or the Miracleman name. And if I were to hazard a guess, they could publish stories with any of the characters from the original Mick Anglo books: Marvelman, Kid Marvelman, Young Marvelman, Dr. Gargunza, et al. But when it comes to reprinting the Moore / Gaiman stuff? Well, hold your horses.
Because there are trademarks, and there are copyrights. And the copyrights here might still be very much in play. First of all, Alan Moore created the key new characters of Liz Moran, Evelyn Cream and Miraclewoman at the very least. And while Moore has been pretty vocal that he gave up all his rights to Miracleman to Neil Gaiman and artist Mark Buckingham when they took over the book as of issue 17, he might be able to raise a stink about reprinting stories with those characters if he wanted to – God knows he's done it before. Still, Moore has said that the rights belong to Gaiman and Buckingham, and Moore has reportedly been happy with Marvel's treatment of Mick Anglo (while also saying that he'd prefer that, if the books are ever reprinted, that his name be stricken from them), and above all, Moore is a man of his word. His crotchety, crotchety word. So if he says that Gaiman and Buckingham have his rights, it's probably safe to say that they do. But it's far from a sure thing.
Further, there's the issue of the Warpsmith character, which was created by Moore but which is reportedly owned by Garry Leach, who "lent" the character to Moore for use in Miracleman. And while Leach reportedly sold his rights to Miracleman to Eclipse Comics, in Kimota: The Miracleman Companion, he claims that he never got all the money he was promised for those rights. So if he still maintains ownership over the Warpsmith character, and he decides he wants to start a fuss over still maintaining some ownership of Miracleman due to nonpayment, well, figure it'll throw a monkey wrench in the works of reprinting some of the original issues. Like Miracleman #15 – you know, the one everyone wants to read, that I paid about $100 for on eBay 10 years ago. And let's not forget DC Comics, who own the rights to Captain Marvel, the character from whom Mick Anglo shamelessly lifted Marvelman when he lost the rights to reprint Captain Marvel stories in the mid-20th Century. I think, after being forced to rename Captain Marvel to Shazam due to concerns of Marvel coming after them, DC might relish the chance to make life difficult for Marvel.
So, based on my admittedly uninformed and speculative opinion? It seems to me that Marvel now probably has a clear window to continue publishing new issues of Gaiman and Buckingham's unfinished Miracleman story arcs… but reprints of the original Moore / Gaiman stories? I wouldn't exactly hold my breath – even if Gaiman and Buckingham agree wholeheartedly to allow their original Miracleman stories to be reprinted, if I recall correctly, Miraclewoman, the Warpsmiths and Evelyn Cream all appear in those stories. While Miracleman / Marvelman himself might - might – be free and clear for Marvel, there are still a lot of unanswered questions when it comes to the actual stories that everyone wants reprinted. There are a lot of people out there who might own a piece of that pie; hell, for all I know, I actually own the rights to Miracleman stories.
So while I'm excited that there's a chance that Gaiman and Buckingham will possibly have the chance to finish the story I've been waiting for more than a decade to see completed… I won't be putting my original Eclipse Comics issues up for a panic sale on eBay just yet.
(via 20th Century Danny Boy)