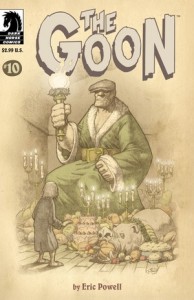 Update, 12/19/2012, 10:05 p.m.: Part 2 is now available after the jump…
It is the time of year when the days grow shorter, your neighbors put on their holiday finery, and you spend an inordinate amount of time trying to decide how many airings of Christmas Wrapping by The Waitresses is enough to constitute an affirmative defense for either Justifiable Homicide or a Not Responsible verdict for the arson of your local oldies station, which went All Christmas All The Time sometime around Memorial Day, as far as you can now remember.
All the lights and the TV commercials and the guys in Santa suits ringing a sanity-piercing bell and begging for change outside your local liquor store like the common winos those Santas actually are the other 11 and a half months a year might be enough to make you throw in the Christmas towel and shout "Bah, humbug!" (or, "Allahu Akbar!" if you were actually able to synthesize explosives without blowing up your basement). But before you turn your company holiday party into some kind of sordid little hostage situation, take a deep breath and enjoy this excellent, well-produced, and most importantly: funny little motion comics adaptation of The Goon #10: The Goon Presents: Charles Dickens's A Christmas Carol, courtesy of Dark Horse Comics and Geek and Sundry.
It is a (semi) faithful adaptation of the Dickens classic, assuming that Bob Cratchit wanted Christmas Day off to spend with Tiny Tim… assuming that "Tiny Tim" is a small-batch bourbon, and that Scrooge is more willing to accept that the appearance of Marley's Ghost is more to do with a small bit of a childhood beating from his mother's tack hammer than the supernatural.
So remove that Santa mask, lay down that chainsaw, relax and enjoy part one of the show, which you can see right after the jump.
Whoa, settle down there, Blitzen! Put down the tire iron! I know, that's only part of the story, but fear not: part two will be available tomorrow at the Dark Horse subchannel of Geek and Sundry… and probably here, since we love this shit. So please put down the Molotov Cocktail.
Update, 12/19/2012: Here's part 2…
(via Comics Alliance)