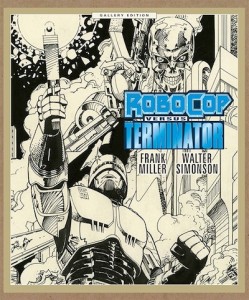 We've talked a lot about Robocop in the past week or so thanks to the rebooted movie version and the associated kinda crappy comics. However, Robocop has long been a subject here; literally in our first week of publication, I wrote a short review of Dynamite Comics's Terminator / Robocop: Kill Human #2, where I bemoaned writer Rob Williams's decision to have Robocop scream, "You motherfuckers!" (Shut your mouth! I'm just talking 'bout Robocop…), and pined for the 1992 Dark Horse Comics miniseries Robocop Vs. Terminator, which was written by Frank Miller, drawn by Walt Simonson, and never, ever reprinted.
Well, it seems that all this current excitement about the Robocop reboot (likely to be followed by disappointment, ambivalence, and eventually denial) has lit a fire under Dark Horse, because they have announced that they are finally reprinting the series. And not just in a quickie cash-grab trade paperback version (although as I recall, the story was good enough that even that would be worth your time and money), but in a recolored hardcover edition.
And if that isn't enough to make you want to shout, "Shut up and take my money!" (which is still closer to authentic Robocop dialogue than Williams wrote in Terminator / Robocop: Kill Human, but that's not the point), Dark Horse will also be releasing a "gallery edition" of the book, featuring Simonson's original, uncolored line art.