on
April 26, 2013
at
8:58 am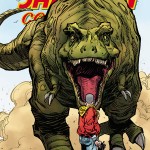 Artist Geoff Darrow is a personal favorite here at the Crisis On Infinite Midlives Home Office. We've got a first print copy of Hard Boiled with a sketch by Darrow in it from the Boston Comic Con a couple of years ago – I walked up and waited while he was talking to somebody else, and he grabbed the issue out of my hands and started sketching in the front cover to illustrate a point to the guy, without even having to be asked – and we also have a big inked sketch of Nixon from Hard Boiled, the Big Guy from Big Guy And Rusty The Boy Robot, and Shaolin Cowboy.
Sadly, Shaolin Cowboy was the big gap in my actual reading of Darrow's books. We missed it when it was initially released by Burlyman Comics back in 2005 (only one store in the area carried that imprint in any numbers, and it wasn't our local comic store, where they know me by name and ask me to stop begging the paying clientele to show me their Burlyman), and it has been pretty out of print for a while since.
However, that is now a thing of the past. Dark Horse Comics announced this week that they'll be releasing a new installment of the story this coming October.
There aren't a lot of details available at this point beyond that, but Dark Horse has release the first two variant covers to the series, which you can check out after the jump.
↓ Read the rest of this entry…