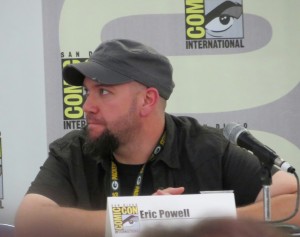 Editor's Note: This article was written last night at around midnight Pacific time. It is only being uploaded now because the Internet access I paid my hotel $14 for was unable to keep a connection, what with everyone being back from the convention and presumably watching the hell out of Netflix on their iPads. The annual San Diego WiFi drought has begun in earnest.
I have attended San Diego Comic-Con for the past eight years, and today I saw cracks occur that I never remember seeing at previous conventions. First, there were the trains. The railroad tracks run right down the middle of the road in front of the San Diego Convention Center, and you learn pretty quickly to hear, then grow annoyed by, and then ignore the constant clanging of the trolley bells. The air horn of the freight trains, not so much, but the point is that generally, the trains are a loud and short term annoyance.
Generally, but not today. Both at lunchtime and at at 7 p.m. – prime time for people to be leaving the convention center – long-ass freight trains pulled up in front of the convention center and just fucking stopped. Thus blocking off the primary route between the center and the Gaslamp Village, where all the restaurants and half the hotels are, and turning the area in front of the intersection into a human clusterfuck so bumbling and useless that, if any of the local cosplayers were actually aliens, they would report to their overlords that the human race deserved to be wiped out like a termite nest.
Now I am not under any illusions that the people behind SDCC have any control over the schedule or driving of freight trains. But they do have some control over the clearing of rooms and the start times of panels, and of the three we attended today, two of them started late. With the earlier Avatar Comics panel (which I will likely write about tomorrow), the volunteer line wrangler told us that the panelists were delayed and at least kept us informed… while still preventing us from entering the room so we could sit the hell down.
But with the panel regarding the Kickstarter work on the proposed movie version of The Goon, no one told us a Goddamned thing. They lined us up in a weird accordion pattern, and when they realized that it was a much larger crowd than anyone anticipated (which seems a little odd; the project pulled in nearly half a million dollars on Kickstarter, which, since The Goon is a little indie comic, should indicate that the movie version has a little interest behind it), one of the volunteers tried to get people who intended to stay through the Goon panel into the following panel to split off into a different line, which is truly unprecedented in my SDCC experience… or at least it would have been if anyone paid any Goddamned attention at all to the poor, deluded dingbat. After all, Comic-Con runs on the ability of the truly obsessed to park in a panel room all day if they want to to see something in particular. Had someone implied that people waiting for a particular panel wait in a separate line until that particular panel started say, last year outside of Hall H, they would have found the guy floating face-down in the bay with his volunteer badge choked around his nuts and "Team Jacob" hammered into the flesh of his forehead.
So instead, we all waited in the same line until someone's shit was finally gotten together at about 6:10 p.m. – ten minutes after the scheduled panel start time. Once inside, we waited another five minutes (my notes read, "Fifteen minutes late – this is not the Superman movie panel, motherfucker") until The Goon creator Eric Powell, computer animation studio Blur Studios co-owner Tim Miller, and Blur Studios Animator / Director Jeff Fowler took the stage, to the side of a screen showing the world's most simplistic Samsung DVD player main menu screen.
And where most movie panels open with some hype guy whipping the crowd into a frenzy, this one opened with Powell saying, "Since this is a Goon movie…" and cracking open a can of beer, "That Kickstarter is a hell of a drug."
Yeah, this panel was not your average SDCC movie hype machine. Which makes sense, considering it is drumming up publicity for a movie that has been in development for five years, and still exists only as a dream that was given life support by a crowdfunding drive only strong enough to create a black and white animatic story reel, all in the hopes of attracting a real movie studio's attention.
Shit, I'd be drinking, too.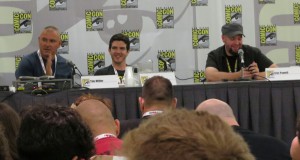 The panelists explained the delay in starting the panels (and for leaving us standing in the hall after a crippling day walking the floor) as the result of technical difficulties… those technical difficulties apparently being the connection of a DVD player to a DLP projector. To which I will only respond: I am not a high-toned computer animator or nothing, but I once successfully built a computer out of spare parts and connected it to a DLP television on a tight schedule while completely shitfaced on a Christmas Eve. Maybe I should start a Kickstarter. But I digress.
The panelists announced that they would be showing us a few videos: the original pitch reel that this crew, along with David Fincher and Paul Giamatti, showed Comic-Con back in 2010, the Kickstarter reel they put together for the findraiser (and which you can still find on the Kickstarter's home page), a second Kickstarter hype video starring a drunken Powell (again, a video that has been previously released), and a couple of actual animatics that have been put together as a direct result of the efforts funded by the Kickstarter drive.
Now, make no mistake: these are good, well animated and funny videos. They are well worth watching. But if you re a fan of The Goon, you have seen them before. And if you are a backer of the Goon movie Kickstarter, you have seen them before. But you have not, however, seen them with a crowd of people, which is awesome. So tell you what I'm gonna do: here's two out of three of those videos. Go get yourself a hundred or so friends, then spend a few minutes smacking your computer and complaining about technical issues, then yell "pause!" a few times, and then open a beer. You will have replicated about 33% of the panel in the privacy of your own home, with none of the jetlag and intestinal horrors of travelling to San Diego!
I guess what I'm getting at is that the structure of the panel was very, very loose… but frankly, that's okay. This was not a panel to get people excited about the prospect of a movie adaptation of The Goon, since people have been excited about that prospect since 2008 and have been very excited about it since the release of that first video above in 2010. They have been so excited that they have ponied up their own money in an effort to get the thing made, and considering about 60% of the crowd's hands went up when the panel asked who had contributed to the Kickstarter, this was less a proselytization than it was an effort to give some new information about the project and its process to people who backed their fandom with their wallets. And while it might sound like I am cranky about how some of it was run, or I might make a little fun of how loose the thing was, I have personally backed this Kickstarter to the tune of some very serious coin. Let's just say that I am due a big box of incentives, so this is a project that I want to see succeed.
And the obvious question that came up during the panel was: why didn't Blur simply hold a Kickstarter for the entire shooting budget of a completed Goon movie the way Veronica Mars did? And it turns out that a 3D animated movie isn't exactly like something you can shoot on digital video in your house on the cheap. Powell said that "I was getting a ton of email… to do a Kickstarter," but the budget for the entire film is 30 million dollars, which no entertainment project has even come close to raising on the crowdfunding platform. Miller later said that the kind of animation that they do costs about $300,000 a minute. "We could do a Kickstarter for each minute," Miller said.
So Fowler said that Blur Studios, Powell and Executive Producer David Fincher decided that it might be worth the risk to hold a Kickstarter for what they're calling a story reel, which is an animatic (a kinda barely animated series of still drawings set to a rough soundtrack of the script, with some music and audio effects thrown in. Tell you what: go pick up the Batman Beyond: Return of The Joker DVD or Blu-Ray; it has some special features that show some animatics. It is also an excellent movie) that will give at least a rough visual of the entire movie that they can show to studio people. "It seemed like a good way to keep the ball rolling," Fowler said, "We could do a pass of Eric's script… totally fleshed out… and show Hollywood how good it can be."
"The fans are great, but we need more people to see it and understand it and love it," Miller said.
Of course, the other question that came up during the course of the Kickstarer was, if David Fincher is involved, why doesn't the guy just write a check? He's rich, right? Powell responded by basically saying: see $300,000 per minute. "These guys have [already] pumped a ton of money into this," Powell said. "They paid me to take time off to write the script."
And unfortunately, even if the movie gets made, we're not gonna see all of that script; Powell said that he wrote in a three-minute sequence of Peaches Valentine shitting his pants. Powell said that he figured that there was stuff in the script that some nervous Hollywood suit, who thinks animated movies are for selling stuffed toys to children, would want to cut out. So he included a long sequence of Peaches just shitting and throwing feces around to give them an easy target to shoot down.
Apparently there were Hollywood suits ready to shoot the thing down anyway, just because they were using a Kickstarter to raise funds. Miller said that executives were stopping him in restaurants to ask him how it was supposed to work. "At the time, no Hollywood picture had been through Kickstarter," Miller said. "Hollywood got pretty excited about it. For 10 seconds."
But the backers were excited, and remain excited… because there are still a lot of promised incentives that haven't gone out (all the digital incentives, as well as the exclusive issue of Powell's favorite issue of The Goon have shipped, but there are pitch books, art cells, t-shirts and posters that have not. But Miller said that's about to change. "Your prizes are coming, I swear to God," Miller said.
Miller said that the t-shirts are done and completed, and that the pitch books and posters have all been printed and signed, and should ship soon. "Eric [signed his name so much that he] couldn't masturbate for a week," Miller said.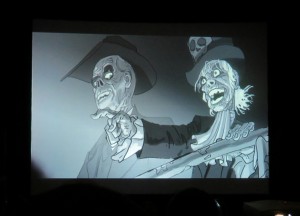 And then the panel showed two short sequences from the animatic. The first was an action sequence of a giant ape attacking The Goon, while Franky provides support by machine-gunning zombies in the face. Now, I didn't video these sequences (I like having my Comic-Con badge, and besides: I contributed to this Kickstarter. I don't want to queer any chance these guys have to sell the flick by prematurely sticking unfinished footage on YouTube), but I have a couple of still photos so you can get a sense of what they look like.
And clearly, this ain't no 3D computer animation. It is pencilled and jerkily animated (when it is animated at all; two-shots of dialogue, for example, are often just a still image), and even the voices are different voice actors than in the promo reel above (although Miller and Fowler said that Paul Giamatti and Clancy Brown are still on board to voice Franky and The Goon in the final movie, if it gets made). But it is enough to bring home the action and comedy timing of the sequence, and it was sufficient enough to give a sense of how the thing would play out in real, 3D animation.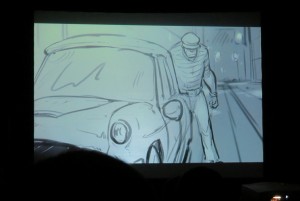 The second sequence was a more dramatic one, of The Goon preparing to leave Lonely Street behind him, with Buzzard trying to convince Goon that he's the town's last hope. Again, the animation here was minimalistic, but the dialogue and visuals were sufficient to demonstrate that the plans for the Goon movie aren't to just focus on the big, fun action that we've seen in the video released so far. Part of what makes The Goon so interesting (at least for me) are how it can go from machine-gunning zombies with big, broad (even pants-shitting) humor in one story arc, to heartbreaking drama in the next. So it was reassuring to see that Blur and Fincher aren't planning to forget that element that makes the comic so great.
So having this video must mean that we're pretty close to having the big Los Angeles premiere that was promised as an incentive to all Kickstarter backers, right? Yeah, no; this is Hollywood, so things aren't exactly on schedule. The process of starting the project immediately following the Kickstarter campaign was slow, Miller said. "It took a while to find the right kind of people [to hire for the project]," Miller said. "Because we didn't want to do a standard storyboard."
Further, Blur is trying to get the maximum bang for their backers' buck. The panel said that the music in both the animatic scenes and in the original pitch reel from 2010 has been donated by Southern Culture On The Skids, and that the band has allowed Blur to use their music for the entire pitching process. Even the voice of Buzzard in the second scene shown is actually that of a Kickstarter backer who works as a voice actor and donated his services to the project.
Fowler said that, at this point, two-thirds of the animation is done, and about a quarter of it has been edited with sound added. The entire project should be done, "Maybe October, November," Fowler said.
And sometime after that, the premiere will be scheduled… and unless Blur comes up with some way to securely stream the video to backers, I will probably not be seeing it. The premiere will be in Los Angeles, and as a Bostonian, it seems unlikely that I can justify the expense of flying across the country to watch a movie. But what I saw gave me a lot of hope that the finished product will capture the spirit of The Goon comics. Which is a hell of an accomplishment from a group of guys who can't seem to connect video technology that was state of the art when Space Jam was considered an achievement in animation excellence.