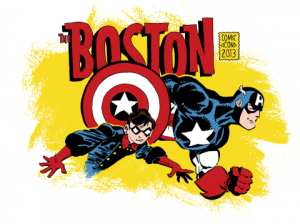 This year's Boston Comic Con was a hell of a surprise, going from a little con with mostly local talent, held in a hotel basement, in 2009 or so, to selling out two days at the Seaport World Trade Center – one of Boston's bigger convention halls – with programming and a double handful of A-List talent on the floor to boot. Sure, the convention showed a few growing pains – if you weren't in line by a certain time it took forever to get into the hall, and for the love of God, they need to stop clearing the programming rooms between each panel – but it was damned impressive nonetheless.
My biggest fear was that it was an anomaly. This year's convention was supposed to take place in a smaller hall in April and was displaced until August and the Seaport World Trade Center thanks to the Boston Marathon Bombing, which meant a few more high-profile guests signed on either to show support to the city or just because the timing was better. And initially, the word was that the convention was going to move back to April, but instead the organizers announced that they were not only sticking with August, but adding a day, going from Friday, August 8th to Sunday, August 10th, 2014.
Which was a good start… but a better sign is that the convention has already announced their first slate of special guests. And let me tell you: last year's A-List talent was no one-off fluke.
So this is just the initial guest list, but it's a doozy: we've got Jimmy Palmiotti and Amanda Conner, Carlos Pacheco, Simon Bisley (meaning I'm getting me a Judge Dredd commission sketch), Tim Bradstreet, Eric Powell (which means maybe I'll get another sketch to go with the commission I'm waiting on from him), Stan Sakai (which will really psyche our contributing writer Trebuchet, who's a big Usagi Yojimbo fan) and Gail Simone.
And on the TV / movie celebrity side (although I've found, at various conventions, the guests most likely to cancel or have to reschedule at the last minute are the TV and movie people, but I hope that's not the case here), we've got Eve Myles from Torchwood and James Marsters – Spike – from Buffy The Vampire Slayer and Angel. And that is good news, because while my co-editor Amanda is bothering Marsters to find out if anyone ever said the words "Constantine" or "Hellblazer" when they were talking his characterization, I can geek out getting my Dredd sketch from Bisley. Then again, Amanda will probably want a Bisley sketch of John Constantine, so maybe that plan sucks, and we'd better make sure to get three-day tickets.
With that said, it doesn't look like tickets are available yet, but we'll let you know when we hear something. And when we do, you really should pre-order them. This year's convention was a zoo, and if next year's is as solid as its looking, you're not gonna want to miss out.