on
December 6, 2013
at
8:32 am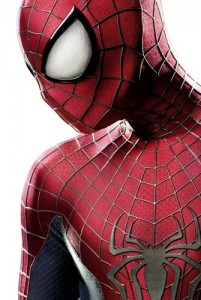 I know I've been writing a lot about The Amazing Spider-Man 2 this week, but that's because there's a lot to write about it. Between the poster teasing the appearance of Green Goblin to yesterday's teaser trailer, it's been a big week for the movie… and if I'm honest, after a year of watching Doc Ock pretend to to Spider-Man, it's nice to see good ol' Peter Parker again for a few minutes… although considering it's a British guy pretending to be all-American, wheatcake-eating Peter Parker, you could argue that Otto is a more authentic imposter.
But anyway, yes, there is still more to talk about the movie. Total Film has put together a commentary track for yesterday's trailer, including comments from director Marc Webb, Andrew Garfield, Emma Stone and Jamie Foxx. Which turns the three-minute trailer into a nine-minute video, but it does contain a few tidbits about the flick.
And you can check the video out after the jump. But if you don't have time to watch the whole thing, fear not: I took a few bullet-point notes while watching it that I'll include after the video.
↓ Read the rest of this entry…