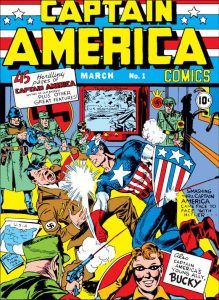 It was a weird week for comics and genre news. Having recorded this episode one day before the announcement of the official title of the new Star Wars movie (spoiler alert: the spoiler is that the title is Star Wars: The Last Jedi), the only comics related news was whether it was still kosher, so to speak, to sucker-punch a Nazi, Captain America style.
(Editor's Note: we discuss the Nazi-punching issue very, very briefly, only to come to the conclusion that, to paraphrase a famous American: if Jake Blues does it, it cannot be illegal.)
So this week, we skip most of the news, and go straight to the comics. We discuss:
Batman #15, written by Tom King with art by Mitch Gerads,
The Amazing Spider-Man: The Clone Conspiracy #4, written by Dan Slott with art by Jim Cheung,
The Ray: Rebirth #1, written by Steve Orlando with art by Stephen Byrne,
Angel: Season 11 #1, written by Corinna Bechko with art by Geraldo Borges, and:
Curse Words #1, written by Charles Soule with art by Ryan Browne!
And, as always, the disclaimers:
This show contains spoilers. If you don't want to find out why, thanks to Catwoman, Batman is no longer the M Night Shaymalan, turn back now.
This show contains adult, profane language, and is therefore not safe for work. If you don't want your significant other to learn what happens when you mix juniper and romilar, get some of those Airpods or something.
Podcast: Play in new window | Download (Duration: 1:21:34 — 69.2MB)
Subscribe: Apple Podcasts | Android | Google Play | Stitcher | TuneIn | RSS | More
Thanks for listening, suckers!