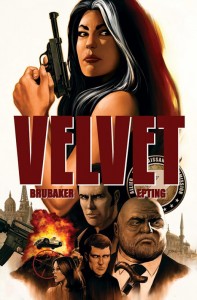 When reading the first issue of Velvet, the new spy comic written by Ed Brubaker and drawn by Steve Epting, you can almost hear the creators saying, "You know what would be fucking awesome? If Miss Moneypenny was actually the baddest motherfucker who ever walked in or out of M's office. Now pass that thing over here before it goes out, willya?"
But I'm getting ahead of myself. Velvet is a spy comic set back in 1973, when the Cold War was running full blast, men were men, women were secretaries, and spies were dapper motherfuckers with laser wristwatches and cars that turned into submarines.
Which is, of course, utter bullshit. Everybody knows that there's no such thing as James Bond – hell, even James Bond knows it, based on the relatively gadgetless Daniel Craig version we've had for the past few years. At this point, we can be pretty confident that real spies are either faceless geeks sucking up Internet traffic (Hi, NSA!) or large-jugged Russians with crappy Facebook cover identities. And besides: real spies work for real governments, which means hierarchy, bureaucracy and internal politics… and they know that you never fuck around with sharks with frikkin' lasers when you can just blow your enemy's head off with a shotgun.
So James Bond sure is fun, but he doesn't make a hell of a lot of sense in the real world if you stop to think about it longer that a minute or two. And Ed Brubaker clearly has stopped to think about it, because Velvet takes the world of James Bond, plugs it somewhat realistically into the real world of 1973, and turns things on their head by making Moneypenny the one that you really need to be concerned about.
And it gives us a meaty mystery: who killed X-14… and just who the hell is Velvet Templeton?