The Aztec calendar says that the apocalypse happens next year, but the fact that yet another issue of Catwoman has found it's way into another week's new comics take…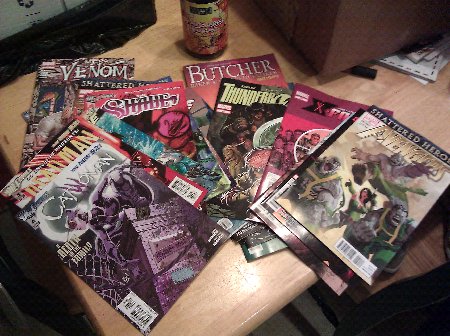 …possibly means the premature 2011 end of the world. And if not, it totally means the end of our broadcast day.
But if you gotta go out, there are worse ways. After all, we've got the last issue of Butcher Baker Candlestickmaker from The Boys, Justice League #4, a new X-Factor, Ultimate Spider-Man #5, and a bunch of other cool stuff to bring us into the Christmas weekend!
And speaking of the Christmas weekend: both Amanda and I are traveling this week to spend time with either loved ones or people who will give us free shit without hissing, "What have you done with our family name?" Because of that, posting may become sporadic between now and the new year… and what we do post might be reviews of fifteen-year-old trade paperbacks we left in our folks' houses around our college graduation (Hello, Death Of Superman reviews!).
But if we're gonna get any reviews of this week's book in, we need some times to read them. So in case shitty flights, rotten airport wi-fi and / or squinting parents muttering, "Why are you calling Spider-Man 'Ultimate?' And a 'Fucking longwinded douchebag'?" slow our output…
Have a happy holiday, suckers!