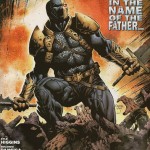 So, Deathstroke #8 is the farewell book from writer Kyle Higgins and penciler Eduardo Pansica and ties up Higgins "Deathstroke's Whole Family Has More Daddy Issues Than George W. Bush" story line. We've watched as Deathstroke fought the good fight against the ravages of time on his physical skill set and reputation, nearly succumbed to vengeful parents with giant bank accounts and hearts full of hate, who want only to balance the scales of justice after Slade's offed their kids, and dealt with his own angry son, for whom he could never be the father the kid needed. Even in this final book, Slade comes to terms with his own issues with his father. Despite all the super powered goodness and big action, the stories have all been grounded in real human problems that anyone who is getting a little older can relate to and that's what made these books work for me. I'm sorry to see Higgins leave the series.
As we've reported before, Rob Liefeld will be taking over the series starting with issue 9. All that stuff with Slade Wilson struggling with familial relationships and his own mortality? Yeah, whatever. Liefeld is going to shoot Deathstroke into space to fight Lobo. Enough of your whining, Slade! We've got fucking space villains to crush, dude!
I like to believe that Higgins has left us a clue as to how Slade feels about this in the parting shots from issue 8:
But, enough of my anti-Liefeld ranting. How do I feel about the rest of issue 8? With spoilers, after the jump.

After the blowout with his son, Grant, that ended the Legacy story arc, Slade Wilson wakes up at a safe house somewhere in Indiana, tended by a nurse whose hourly rate apparently does not include a warm and friendly bed side manner. That's ok though; Wilson's dealt with rougher treatment. In fact, the story in this issue is interspersed with flashbacks to a young Slade Wilson, traveling from city to city with his failed con man dad. His dad, Nathaniel, is a wimp who gets beat up a lot by guys he owes money to…which is pretty much everybody. So, he takes his frustrations out on his son. His abuse of Slade culminates in coldly selling his son to gangsters to pay off yet another debt, this time for ten thousand dollars.
Grant might have been angry with Slade for putting him on the path to becoming an amoral mercenary, but Slade is Father Of The Year compared to his old man. Slade became the unstoppable killing machine he is in response to not wanting to be like his father, who is a laundry list of "what not to do to succeed in life". Higgins tells the story in the book quickly, because he's got to wrap up for the next guy, but it's effective nonetheless. Once again it's a relateable story at its core, this time about parents and their adult children: children are shaped by what we teach them, whether it's directly or implicitly. You may not always like how it turns out, either as the parent or the child. But, now that you're both adults, you have to find some way to make peace with the past if you have any interest in having some kind of relationship. And, sometimes, you just have to move on.
The lesson Slade learned from his dad is that quitters are losers, so as tempted as Slade may have been to off himself because of the stress of recent events in his life, he didn't. Because Slade didn't want to be a quitting failure. Like his dad.
Eduardo Pansica takes over penciling duties in this issue from Joe Bennet, with whom he worked on art for issue 6. It's not a jarring transition. Pansica seems to have a similar, blocky style in this issue, perhaps favoring fine cross hatching for shadow a touch more than Bennet. But, the action in the layouts is clean and clear, and, if you're not a fan of cross hatching just wait until next month!
Maybe I'm getting to worked up by the impending take over by Liefeld, but I like this book and I like how Higgins handled this character. Plus, the first thing DC did after Liefeld took over Hawk And Dove was…to cancel it. So, I'll pick up Liefeld's first issue just to see how it goes. After all, quitters are losers. But, like the nurse points out to bedridden Slade in this issue: