Elephant In The Room: DC Comics's Before Watchmen Panel, SDCC 2012
on
July 15, 2012
at
1:07 pm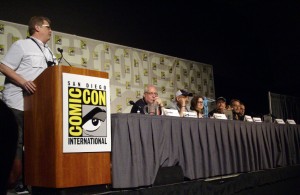 I expected things to be a little more contentious than they wound up being at DC Comics's Before Watchmen panel yesterday.
After all, this is Comic-Con. It is packed to the gills with rabid fanboys and fangirls, many of whom were swirlied in junior high school (Hi, Paul Jameson! I make a comfortable living in the software industry now! How's that A in woodshop treating you, fucker?) and now that they have strength in numbers, are itching for a fight. This convention has fundraisers for Jack Kirby, panels dedicated to pointing out the injustice of Bill Finger not getting enough credit for co-creating Batman, and a panel called The Most Dangerous Women in Comics. It is a place where a lone nut in a Batgirl suit can change the course of an entire comics company, and come back the next year bearing gifts for the creators and none for the thousand or so paying customers whose convention experience she fucked with last year in order to further a personal agenda. In short: this is Angry Fanboy Central, and if there was a place for them to show their colors, it was this panel.
But that didn't happen. Sure, the panel started a little bit late, and the whole Quentin Tarantino announcement smack in the middle sucked up some question time, so maybe the slavering, angry, "You fucked Alan Moore!" guy just didn't get his turn at the microphone. The people who did get a turn were generally really enthusiastic about the whole Before Watchmen project; one fan flat-out said that he was one of those "keyboard commandos" who ranted against the whole project, but wound up really getting sucked into it. Hell, the entire Alan Moore elephant in the room was only addressed once by anyone in the crowd… and it was a guy who was hoping that DC could get Moore to work on a Watchmen sequel.
How'd that turn out? Well, let's watch!
So yeah, the crowd was pretty pacified over the whole subject. But then again, when you show a bunch of variant covers and interior art from some of the best in the business – Jim Steranko's doing a variant cover for Rorschach, for Christ's sake – you can calm down any room of comics enthusiasts.
Even the DC brass are excited about how the project is being perceived in the marketplace (although I would imagine they'd have to be; if it was tanking, this panel would probably have been quietly canceled and replaced with something like The Glass Ceiling For Women In Comics). DC Co-publisher Dan DiDio said, "I couldn't be more happier… the periodics [sic] have exceeded our expectations… these guys are turning in the work of their lives."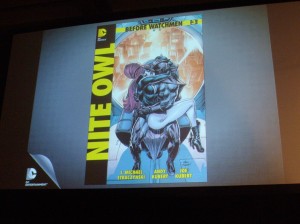 Each member of the panel gave some teasers to what's coming up in their respective books, and showed off some art that's on its way. Nite Owl Friter J. Michael Straczynski addressed the fast pace of his first issue by saying he felt he needed to address the character's childhood, relationship with the original Nite Owl, and superhero partnership quickly so he could explore other things, "I wanted the first book to get him… working with Rorschach," Straczynski said.
Straczynski said that in an upcoming issue, we will see Nite Owl meet The Twilight Lady (The villain whose picture Laurie found in the original Watchmen), and despite Dan's protests in the original? Yeah, they were boning. Straczynski described a sequence where we see them right after doing the Horizontal Biff-Pow… naked except for their masks, and negotiating the terms over unmasking in future sessions of the Dirty Thud. Turns out The Twilight Lady knows Dreiberg, and hilarity ensues.
Ozymandias writer Len Wein, who arrived to the panel late looking like he had just come from panhandling outside the Santa Fe train station, said that he's enjoying writing the first person narrative of Veidt, particularly since the conceit is that the entire book is a suicide note of sorts, dictated in the event that his master New York tentacle porn plan for world peace goes tits up. And Wein said he was thrilled with the work that artist Jae Lee is turning in for the book. "This isn't comic book art," Wein said, "This is fine art."
Neither Rorschach artist Lee Berjemo nor writer Brian Azzarello were at the panel, thus preventing me from carrying out Crisis On Infinite Midlives contributor Trebuchet's wishes…
Ask Azzarello why he hates The Comedian.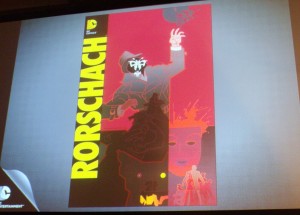 …but DC Senior Editor Will Dennis said that the book isn't going to give us a lot of additional depth to the character. "It's like a 70s grindhouse," Dennis said, purely by coincidence right after Tarantino left the room, "You're not going to learn a lot about the character. He just does what he does."
Dennis described how he got Steranko to agree to doing a cover for Rorschach: "I called Steranko and asked him if he would do a Dr. Manhattan cover and he said, 'No… I want to do Rorschach.'"
Straczynski dropped a few details about the upcoming Dr. Manhattan title (is it upcoming? Has it come out yet? The weird thing about SDCC is that you can easily get your hands on the first appearance of Batman if you have the coin, but new comics are a little tougher to come by). He said that, since Dr. Manhattan can see time as a totality, he knows every decision he has ever made or ever will make, and is hamstrung by it. "In a way, he doesn't have free will," Straczynski said, "[He is] imprisoned by his own point of view. [The book is] a quantum science fiction story about free will."
Straczynski teased a story point about where he can go using the whole quantum memory conceit: "[Dr. Manhattan] goes back through his memory, back to the intrinsic field generator, gets his jacket… and walks out." Straczynski said we would see Manhattan struggle which what it meant for him to have a memory that clearly didn't happen. For me it means one hell of a Saturday night. Particularly if I wake up painted blue. But I digress.
Minutemen artist / writer Darwyn Cooke talked about how he was trying to show some of the overly nostalgic sense of the golden age of comics / superheroes, and how everything slowly and inexorably turns to shit. "I wanted to give that wonderful, glorious sense of what the good old days must have been like," he said, before describing how things turn dark. Darker than Cooke is used to working with: "I don't usually do mature readers work," Cooke said, "It's kind of cool."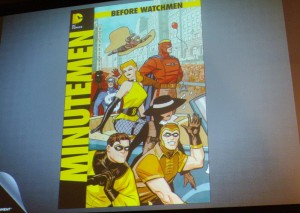 Cooke also warned readers against ranking the books based on the first couple of issues. "Look at it very carefully," Cooke said, "Pull it apart as best you can, and don't jump to the wrong conclusions."
Cooke also confirmed that we will see Silhouette killed before Minutemen ends, but that by the time it happens, "She will be one of the great female heroes of all time."
Silk Spectre, described by co-writer and artist Amanda Conner as "Watchmen at Riverdale High," is going to take the character to San Francisco during the Summer of Love, to which I can only say: yay, boobies and mescaline! Conner said she's been researching a lot of rock and roll history to include in the book, "Because it's fun."
Conner's co-writer Darwyn Cooke described how the fight between Laurie and Sally evolved from what was originally a standard "Danger Room" training sequence into something far creepier and more effective when Conner called him and asked, "Have you ever seen Pink Panther?" Cooke also raved about Conner's work and effort on the book, saying, "I want everyone to know how hard she's working on this book. Her husband won't talk to me anymore."
When it comes to Comedian, Dennis didn't deliver on the one thing that Trebuchet wanted: an apology. However, he said that the book will explore Eddie Blake's character, particularly in the sense that he is shown as a real bastard in the original Watchmen, and whether he is destined to be a monster, or whether he has the opportunity to change. "Is there a chance that a person is fated to be like that?" Dennis said. Considering this is a prequel, and we see what happens to Blake, I'm personally guessing yes… but since Azzarello has already chucked plot points from the original, who knows?
The other interesting thing about the panel was the revelation of just how long it took to put the project together. We learned about it in February, but apparently this was ongoing for quite a while before that. How long? Let's ask Darwyn Cooke!
And that was pretty much it; no one called the panel bastards for creating ancillary works to Moore's Watchmen, and everyone who spoke seemed pretty pleased with the results. But God forbid that anything related to Before Watchmen not gin up a little controversy; when the fan in the video above asked about doing an After Watchmen, DiDio wouldn't rule it out. "This is a marathon, not a sprint," DiDio said.
That sound you just heard was Alan Moore's embolism finally exploding. And while I am enjoying a couple of the Before Watchmen books based on their first issues, maybe it's time to start dieting to fit into a Comedian costume. Because I would look fucking stupid in a Batgirl suit.
But while I starve myself, here's all the pictures and variant covers I got from the panel.