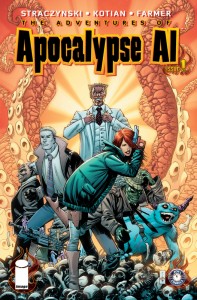 Hey, didja know that one of J. Michael Straczynski's first professional writing gigs was on the cartoon The Real Ghostbusters? Sure, it might seem odd that the guy who came up with Babylon 5, Crusade and the first draft of the World War Z movie cut his teeth on irony-based horror comedy, but it's true: one of JMS's earliest gigs was putting words in the mouth of Peter Venkman. That puts him in the rarefied company of Dan Ackroyd, Harold Ramis, and every slashfic author who ever wanted to see Bill Murray take a PKE Meter in the Ghost Trap from Patrick Swayze, if you get my drift.
Without that knowledge, it would seem really counterintuitive for the guy who wrote Changeling to write a horror comedy with an oracle who can foretell the futures price of cucumbers, a lawyer with a sense for the dramatic who happens to represent the Prince of Darkness, and a private detective protagonist who specializes in stopping the end of the world despite her crippling fear of sensible shoes. It might sound silly for the guy who wrote The Shadow War to write a book where someone warns the hero that the end of the world is preferable to undercooked bacon, but again: Straczynski made his bones writing for the animated avatar of Bill Fucking Murray.
Which means that Straczynski is actually a pretty damn good person to write a book like this. Which is why it's actually a lot of fun.