They Just Seem A Little Weird: The Walking Dead #102 Review
on
September 22, 2012
at
11:24 am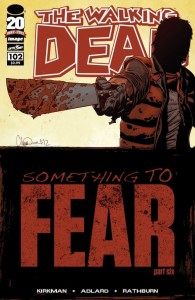 God, The Walking Dead has been a king bummer recently. And I know that's a hell of a thing to say about a book that has shown in its nine-year history that anyone can die at any time for any – or no – reason at all, but its the truth. Over the past couple of years, we've gotten used to seeing Rick and the gang moving from being barely-surviving victims, constantly on the edge of being wiped out, to bad motherfuckers who are not only not to be trifled with, but who damn well know it. It's been like watching Walter White turn into Heisenberg, only with less mouthy teen using "bitch" as a comma, and no Skyler fucking everything up for everybody.
That all went sideways in issue #100, when Negan took Glenn out with a baseball bat and apparently turned Rick into a simpering pansy. So we've spent a couple of months watching people grieve, and Rick apparently coming to terms with the fact that he and his people are about to become bitches for Negan and his Saviors, all while his people are generally whipping themselves up into a screeching hate frenzy to do some revenge murder, utterly unaware that Rick has committed to standard divorce terms: he got fucked, and now he has to give up half his shit and smile about it.
And as in any divorce, there comes a day when you have to tell the kids that their lives about about to inexorably turn to shit because Mommy and Daddy can't get along. And The Walking Dead #102 is that issue, the time when Rick's people must come to terms with the fact that they are forever doomed to laboring on behalf of aggressors who they can never defeat, and for whom Rick, who has always protected them, has no idea how to overcome.
Kinda.
This is, in fact, the issue where Rick lays the groundwork for finally telling his people that they are going to give Negan any Goddamned thing that he wants to save their own lives. And he does it with what appears to be diplomatic persuasion to bring the most likely elements who would rail against that decision into line; he explains to Andrea that Negan's numbers make him an insurmountable threat. He tries to demonstrate to Carl that he doesn't know what to do. He asks Michonne not to go all Michonne on the bastards. And then, even though Eugene tells him that he is reasonably certain the the group is capable of manufacturing ammunition – a shortage of which is one of factors in Rick's apparent decision to bend over – Rick still tells the group that they are fucked, burnt and in the way… maybe.
Most is this issue is just depressing. We've been following Rick and his people for years now, and no matter what has been thrown at them – Rick losing his hand to The Governor, attacks by rival groups, and simply hoards of zombies – Rick has never given up. And it is difficult not only seeing him apparently defeated and flailing, but actively trying to convince his people, who are itching for a fight, to just stand down and take it in the shitter. Reading the issue feels like the most difficult episodes of Breaking Bad, where the hero appears doomed. The problem is that, in those episodes, the entertainment comes from seeing Walter fucked but trying like hell to find a way out of it. Walter never stops trying to get out of his troubles, whereas Rick seems to be simply giving up… right until the end. And the last page of this book is worth the price of admission, because after 21 pages of seeing Rick roll over, even the inkling that Rick and Jesus have a plan is such a huge Goddamned relief that it's like coming out from underwater.
What writer Robert Kirkman has done with this issue is twofold: he creates an unrelenting feeling of doom and surrender abated by the revelation that Rick has some kind of a plan… and he makes what that plan might be an absolute fucking mystery. Kirkman makes it clear that, whatever Rick has in the hopper, it not only doesn't include his primary utility players like Michonne and Andrea, it requires them to have no idea whatsoever what he's doing. So what we have is an issue that for all intents and purposes is a depressing surrender for 21 pages, suddenly turns into an inspiration on the last page, which simultaneously transforms the prior 21 pages from a story of giving up to a damned interesting mystery: what the hell is Rick up to that he needs even his heavy hitters to think he's broken? It is masterfully executed, and has made me start counting the days until issue #103 drops.
Charlie Adlard's art continues to be ubiquitous with The Walking Dead – at this point, when I pull out the first trade of the series, Tony Moore's art just doesn't look right. And his work here is as it always is, even though the drama here is entirely human and conversational. His panel layout is simple, generally a series of grids with bigger panels to control the pacing – for example, the panel where Rick "admits" to Andrea that he doesn't know how to defeat Negan goes big to force the reader to slow down so that the moment carries more weight. But still and all, with the conversation focus on this book, there's not likely to be a fistfight over these pages at Artists' Alley… with on exception. During Rick's conversation with Michonne, she normally looks as she always does: squinty-eyed, angry and closed off… right up until she admits that she's only been fighting to stay alive. In that panel, Adlard gives us a close-up of Michonne's face, with her eyes wider and more expressive than I recall ever having seen them. In one panel, Adlard shows us the person under the killing machine we comic readers have known for years (and TV viewers can't wait to see more of in season 3), and he does it as, if not more, effectively than Kirkman's own writing of the character. Yeah, this is an issue of a lot of people talking… but Adlard's art makes it compelling.
The Walking Dead #102 is, at first glance, a slow and depressing read, slow on action and long on giving up. There are no zombie attacks, there's no violence, and enough conversations around enough tables to bore Brian Michael Bendis. If you're a fan of the TV show wandering into a comic store for the first time and picking this issue up to see if you like the comic, you'll never come back for another issue. But for longtime fans of the comic, it's a turning point issue, the place where the groups is at its lowest ebb, allowing you to feels the despair… and then turning it all around, making it a devious mystery, making you look forward to seeing how the revenge might play itself out. It's a slow-paced issue with no action… and it is awesome. Check it out.