on
February 21, 2013
at
6:02 pm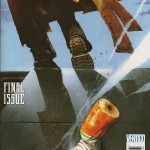 Yesterday, I bemoaned the fate of Hellblazer and the title's termination at issue 300 before going on to say mostly nice things about a character that had been generally known as a cliche, prior to being brought back from the dead. Today, I will talk to you about a character who has also turned into a cliche prior to becoming dead: John Constantine.
I think my "wailing and gnashing of teeth" yesterday was primarily mourning for a character who has really been dying and on his way to dead from about issue 251 on. I'm sure Peter Milligan meant well, but this series – which managed to survive the literal dicking Brian Azzarello gave it back in the year 2000 – has been dead man walking for some time. Sure, there's been some glimmers of good story, but this is not the John Constantine we all signed up for. This is a sad shell of a John Constantine, a Constantine that, had he been anticipated as a likelihood by former writers like Garth Ennis, would have eaten a bullet sometime back around 1994. Issue 300 does not serve so much as closure for John Constantine as make you wonder about the Constantine that might have been in other hands.
And, I think I've figured out why.
Join me as I spoil my way through problem solving, after the jump.
↓ Read the rest of this entry…