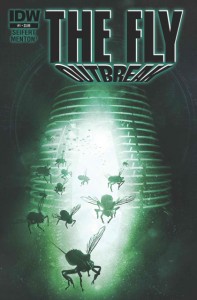 It has been, bar none, the crappiest week in comics news in recent memory – when the high point of the week's news is that Larry Wilmore hosted a nationally televised round table discussion on how comics aren't diverse enough (bookended by nerds-in-basement gags), it's probably best to just pretend the whole thing just didn't happen.
So that's what we pretend. Instead, we took the occasion of the release of IDW's The Fly: Outbreak #1, written by Brandon Seifert with art by Menton3, as an excuse to revisit one of our favorite movie franchises. Sure, The Fly might seem like simple Cronenberg body horror, but if you take a few steps back, what you really have is, starting with the original short story, a series of classic tales of science gone wrong, with unintended circumstances that imbue someone with extraordinary abilities in the face of terrible tragedy. Sure, it's presented as horror… but if Jack Kirby or Steve Ditko had drawn it, we'd be arguing over which actor should be playing Seth Brundle right now.
We also discuss:
The Amazing Spider-Man #16.1, written by Gerry Conway with art by Carlo Barberi, and:
Batgirl #40, written by Cameron Stewart and Brenden Fletcher, with art by Babs Tarr!
And now the disclaimers:
We record this show live to tape. While this might mean a looser comics podcast than you're used to, it also means that anything can happen. Like a discussion over why real superheroines know to avoid a stack overflow error (and why that isn't a reference to a wardrobe malfunction).
This show contains spoilers. While we try to shout out warnings ahead of time, be aware that we might ruin the ending of a 29-year-old horror movie (that's based on a 57-year-old short story).
This show used adult, profane language, and is therefore not safe for work. You want your boss to know how many Godzilla wangs worth of snow we got this winter? Didn't think so. Get some headphones.
Podcast: Play in new window | Download (Duration: 2:03:36 — 109.0MB)
Subscribe: Apple Podcasts | Android | Google Play | Stitcher | TuneIn | RSS | More
Enjoy the show, suckers!