on
January 28, 2013
at
9:09 am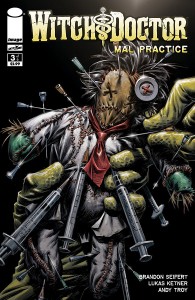 Witch Doctor has always been a book that has been pretty unabashed about wearing its influences on it's sleeve. If you take a step back – and not even a big step – and unfocus your eyes a little bit, you can see past the characters on the page and see Ghostbuster jumpsuits, with Dr. Gregory House peeking out from Dr. Vincent Morrow's eyes, and if you could get your hands on the plans for any given building, in the book, you'd probably see "Tim Burton, Architect" signed at the bottom.
This should be a recipe for disaster. After all, think about every groundbreaking hit movie you've seen, and then think about how many "homages" to that hit that came out a year and a half later, and how good they actually were. Sure, everyone loves Raiders of The Lost Ark, but a dare you to find me someone who pops wood over, say,Nate & Hayes, orHigh Road to Chinaor even someone who remembers them without resorting to IMDB – and one of those even starred the guy who was originally cast as Indiana Jones. Sure, the parts are all there, but just because they were magic in one place doesn't mean they can work when you grab them and drop them someplace else.
So yeah: if you stop and think too much about Witch Doctor: Mal Practice #3 too much, you'll see all the pieces working under the hood. And, depending on what kind of reader you are, that might prove too distracting to really get into the book. Which would be a shame, because even though you can see all the influences at work, writer Brandon Seifert and artist Lukas Ketner has put together one hell of a fun book, with entertaining and funny dialogue, nifty gadgets, and satisfying action. Sure, you've seen some of what underpins this story before… but you don't see it done well often.
↓ Read the rest of this entry…