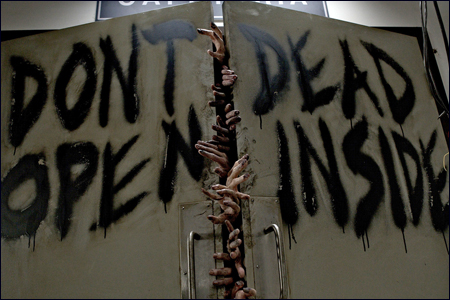 As we have been for the past several weeks, we remain immersed in the process of moving to a new Home Office. This means that we have spent our week collating documents mundane and obscure, and hunting for documents demanded by Unseen Powers that are so obscure that they apparently Cannot Be Named.
So we welcomed the distraction provided by a universe where, if a man wants a new house, he need but clear it of shambling ghouls and defend it from traitors and raiders. That universe being that of The Walking Dead, which debuted its sixth season last Sunday. So we discuss this magic world that is so blessedly empty of lawyers, mortgage underwriters and real estate brokers. A world that provides not only some of the most stunning visuals this series has ever presented, but which also raises questions about the very nature of morality and the rule of law, in a world where a society's members, circumstances and requirements can change by the second.
We also discuss:
Chewbacca #1, written by Gerry Duggan with art by Phil Noto, and:
Uncanny Avengers #1, also written by Gerry Duggan with art by Ryan Stegman!
And, the inevitable disclaimers:
We record this show live to tape, with minimal editing. While this might mean a looser comics podcast than you are used to, it also means that anything can happen. Like the avocation of financial, and perhaps physical, sanctions for late comics.
This show contains spoilers. While we try to shout warnings ahead of time, be aware that we may ruin the surprise as to who this season of The Walking Dead's Carl is (fun fact: it might not be Carl!).
This show contains adult, profane language, and is therefore not safe for work. We talk a lot about "horrible biological sounds" this week. Think your boss would use that in a positive way in your annual review? Yeah, get some headphones.
Podcast: Play in new window | Download (Duration: 1:44:23 — 96.4MB)
Subscribe: Apple Podcasts | Android | Google Play | Stitcher | TuneIn | RSS | More
Thanks for listening, suckers!