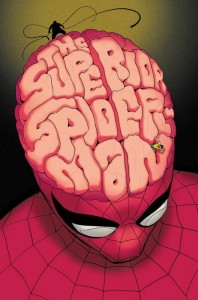 Editor's Note: Sorry, but this has to be. The spoilers of an old life must make way for the new.
At the end of 2012, Spider-Man writer Dan Slott got a lot of attention boosting attention to his long run on The Amazing Spider-Man by, well, killing The Amazing Spider-Man.
The move caused an uproar amongst long-time Spider-Man fans, who acted like Slott stole Grandma's Thanksgiving turkey and then beat her with it about the nead and neck. It was interesting to watch: hundreds upon hundreds of long-time comic fans – fans who have seen almost every damn character of any prominence die and come back to life over the years – acting like they were incapable of understanding that Spider-Man's death was obviously temporary. Of course Spider-Man's gonna come back to life; Marvel would no more kill its flagship character than it would hand over the keys to the shop to slashfic writers for whom English is a second language.
However, the move got a lot of press and led to a lot of printings of The Amazing Spider-Man #700, so from a business standpoint, the move to kill Peter Parker was a success. So four months later, what does Dan Slott do for an encore?