on
November 29, 2013
at
2:53 pm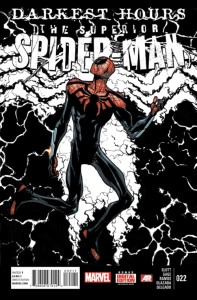 I haven't written about The Superior Spider-Man in a while, even though I am still reading it and still generally enjoying it, because it is beginning to succumb to The Walking Dead disease.
Here's what I mean: we all know full well how The Superior Spider-Man is going to end. No matter what writer Dan Slott says on Twitter and at conventions, we all know that Peter Parker will return as Spider-Man at some point before the Amazing Spider-Man 2 movie opens on May 2nd next year. And even if you choose to believe that Marvel's overlords at Disney will be willing to allow that corporate synergy and mindshare (Christ, I feel dirty just typing that) to pass since the movie's owned by Sony and Columbia, the signs are all here that Peter Parker will return and Otto Octavius will suffer a fall. Otto's showing hubris, he's arrogant, and his sense of superiority is rubbing damn near everyone the wrong way.
All the signs point to Otto falling from grace and Peter returning, and the problem is that every reader knows this. Because we read comic books, and we know full well that dead only means dead in comics if the dead guy is Uncle Ben, Thomas Wayne or Martha Wayne. So we all know that the broad-stroke ending of Otto falls / Peter returns is coming (the same way we've known that Negan falls / Rick triumphs is the likely ending of the Walking Dead arc that's been going on since 2012)… but it seems it has been going on forever.
And the events of The Superior Spider-Man #22 continues with the long, slow arc of Otto blindly heading toward a bad end, with yet another instance of Otto interacting badly with someone who would expect Peter to know and be friendly with him. And it's certainly enjoyable enough, particularly in seeing J. Jonah Jameson's reaction to some of the events of the issue… but it is also still more of the same interminable setup for a story for which I'm becoming damned impatient to see the punchline.
↓ Read the rest of this entry…