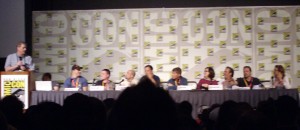 Editor's Note: I acknowledge that these pictures suck. We'll upgrade our cameras once we receive your subscription check. Oh, you don't pay for this? Then fuck you and enjoy the pictures you got.
Last year we kind of wandered into the panel for Scott Snyder's American Vampire, mostly to make sure we'd have a seat for the DC New 52 panel that followed directly afterwards. Don't get me wrong, we were following American Vampire in kind of a general way, but I had fallen away; the initial hype around one of the early stories being written by Stephen King hadn't been enough to keep me in the book except in a "flip through when I happened to see it on the shelf" way. The point is that last year, we were able to walk right into Snyder's panel without having to wait around in a line.
That was 2011. This year, Snyder's writing Batman, which has consistently been one of the best books of DC's New 52 and the source of the first post-reboot DC crossover event. So this time around, for the Batman panel yesterday? Yeah, we waited in line.
The Batman panel covered all the Batman family books, from Batman to Red Hood And The Outlaws… meaning walking in Amanda and I steeled ourselves for exciting news running the gamut from Batman's post-Owls Joker encounter to Starfire's post-Red Hood stranger's penis encounter. However, weird former Teen Titan sex revelations or no, Snyder started the panel off with a laugh: "Avengers Vs. X-Men, who wins? Batman." I hate it when my comic writers are funnier than I am. But I digress.