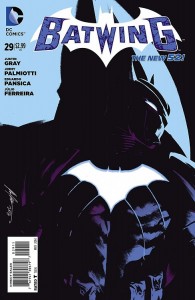 So I haven't written about Batwing for a while. Even though it has remained on my pull list, I had kinda tuned out of Batwing for a while. It survived my first cut of books from the initial New 52, unlike real stinkers like Hawk & Dove and The Savage Hawkman, and it never really got bad, but the whole former child soldier of African warlords angle never clicked all that well with me. Not because it was badly executed, but because it always reminded me of Joshua Dysart's The Unknown Soldier, and that was a comparison that, when it comes to harrowing drama, a book about a guy in a Bat suit was going to lose.
Since writers Justin Gray and Jimmy Palmiotti took the book over, those issues have vanished. We've got a different guy in the Batwing suit, a Batwing suit that is basically the Batman Beyond suit, and we're back in Gotham City, giving us a little distance from the whole Batman Incorporated conceit that almost forced the international feel. And what we wind up with is a version of Batman Beyond, with a young, brash guy being mentored by Batman in the most dangerous city in the world. And that works for me; I don't have an original Bruce Timm Batman Beyond sketch and the Batman Beyond Black And White statue on my mantle because I don't like that kind of story.
And in Batwing #29, Gray and Palmiotti put together a mix of tones that is a little weird, but generally pretty fun. There is urban horror and real terrible stakes to what's happening to Luke Fox and his family, horror befitting a modern Batman family comic. And yet it is tempered with big, silly comic book-y ideas, like an unknown underground city beneath Gotham, populated with homeless geeks in Egyptian costumes and giant monsters. It's a weird mix, but it generally worked for me, and I found it really pretty entertaining.
Provided I turned some parts of my brain off.