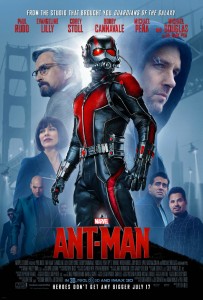 Marvel Studios's Ant-Man opened in the United States this weekend, marking the first Marvel movie in years where non-geeks said, "Who?"
So we decided to mark the occasion by bringing in comedians Tim McIntire and Benari Poulten (who guested on our Avengers: Age of Ultron episode), as well as comedian Ross Garmil, to talk about the movie. Spoiler alert: we liked it because of the characters, and in spite of the fact that Edgar Wright didn't direct it, and that it had more holes than a Guadalupe Yambiter ant hill.
But being geeks, the conversation meandered a bit, to also include some Batman V Superman and Star Wars: The Force Awakens talk. With a few unexpected detours and interruptions. This is a wild one, but a fun one, kids…
And now, the disclaimers:
While we normally record this show live to tape, this week our guests called in remote from their homes, where two of them also store children. This means that we had to do more editing than usual, but nothing was added or moved.
This show contains spoilers. If you were hoping to learn that Ant-Man's power involves ants at the theater, maybe save this episode for later.
This show contains adult, profane language, and is therefore not safe for work. If you think your boss would be creeped out by Rob asking a child to check a video feed for possible infections, it means that your boss is a well-adjusted human being, and that you should listen with headphones.
Podcast: Play in new window | Download (Duration: 1:14:27 — 72.1MB)
Subscribe: Apple Podcasts | Android | Google Play | Stitcher | TuneIn | RSS | More
Thanks for listening, suckers!