on
March 25, 2013
at
9:30 pm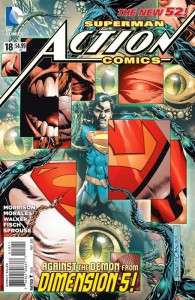 Grant Morrison is done with Action Comics now. And I am okay with that.
I am okay with that because, with the benefit of  hindsight over the entire run, his story was meant for Superman fans. By which I mean, real, hardcore, longtime Superman fans. The kind of Superman fan who thinks Superman will never look right again now that Curt Swan is dead. The kind of Superman fan who knows, without consulting Wikipedia, that Silver Kryptonite makes Superman PCP-level paranoid, while Red Kryptonite makes him grow four dicks in each armpit. The kind of Superman fan who calls his penis "Beppo."
Morrison's run started with Superman fighting corrupt businessmen, as he did in the early issues of the original Action Comics, and ended with a battle with Mr. Mxyzpltk, effectively "modernizing" Superman for the New 52 by bringing him from 1938 all the way to 1965, via a mescaline bender. Sure, there was the odd stop to examine what Superman might mean to the modern world, but all in all, this series started out, and ended, as a celebration of the earlier, more out-there elements of the Superman mythos.
So, as I've said in other reviews of Morrison's Action Comics issues, how you feel about Action Comics #18 will largely depend on how nostalgic you are for Fifth Dimensional imps, multi-colored Kryptonite, super-powered animals, the Legion of Super Heroes, and yet another bold statement about how important Superman is to the DC Universe and to America. You know, bold statements like Morrison made in All-Star Superman and DC One Million.
Personally? I can take them or leave them.
↓ Read the rest of this entry…