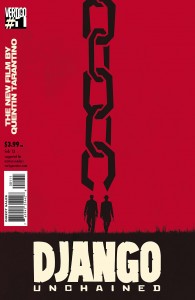 In this week's episode, Amanda and I discuss:
DC Entertainment's / Warner Bros.'s rumored slate of movie released, from Batman V Superman: Dawn of Justice in 2016 to a rumored new Batman movie in 2019, whether DC is overextending, which ones we're most looking forward to, how Sandman could work as a movie, and who should play Shazam,
The recently announced Quentin Tarantino / Matt Wagner crossover of Django Unchained and Zorro, why we're not as excited as we might have been 15 years ago, and what Django crossovers we'd rather see,
Sex Criminals #6, written by Matt Fraction with art by Chip Zdarsky,
Thunderbolts #27, written by Ben Acker and Ben Blacker, with art by Carlo Barberi, and:
How World Cup soccer is enough to put an American – even a baseball-loving American – right to sleep.
But some disclaimers:
This show is recorded live to tape, like a live radio show. While this might mean some dead air and dead ends, it also means that anything can happen.
This show contains spoilers. We try to drop a warning ahead of time, but tread lightly.
This show contains profanity and adult language, and is not safe for work. If it was translated into sign language, it would be only a middle finger. Wear headphones.
Podcast: Play in new window | Download (Duration: 1:26:33 — 79.3MB)
Subscribe: Apple Podcasts | Android | Google Play | Stitcher | TuneIn | RSS | More
Enjoy the show, suckers!