on
September 18, 2013
at
9:48 pm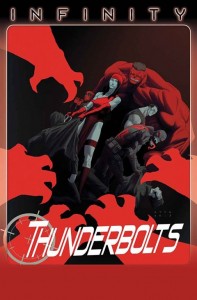 I have clearly not been responding well to Marvel's Infinity crossover, and I'm beginning to understand why that is, beyond a general orneriness that comes from covering something like five major crossover events in two years, with one of those events being Fear Itself.
Infinity is about a lot of things: interstellar war, tactics and strategy on a large scale, betrayal, and the lineage of kings and tyrants, with mass extinctions of a variety of races and alien species hanging in the balance… but i's not so much about people. Sure, we have Captain America acting all inspiring and Captain America-ey, and we've got Namor acting all stoic in the face of apparently giving up to Thanos's goons, and pretty soon we'll have Doctor Strange being all bummed and guilty for leading the bad guys to Thanos's son… but otherwise it's all Skrull generals talking about the glory of battle and Krees calling humans upright apes and Builders talking like hippie douchebags with Classical Lit degrees and a suicide pact.
Ships and strategy and explosions are fun, but without the human element, a lot of Infinity has felt like watching dudes playing a tabletop game of Starfleet Battles: kinda interesting, but not the kind of spectator entertainment likely to convince me to turn off the Red Sox game. Which is probably why I've responded better to the extraneous crossover books that have dealt with the invasion on Earth. Sure, it's hard to call an alien invasion of Earth a "small" story, but particularly with the way Jonathan Hickman has pulled all the heavy hitters off the planet, leaving only lower-powered heroes to deal with everything, crossovers like last week's Mighty Avengers #1 feel more personal.
As does this week's Thunderbolts #15. Which starts as a story about The Punisher dragging the team on a personal mission to wipe out one of New York's crime families, only to be interrupted by the violent invasion of New York by the forces of Thanos.
And, as with Mighty Avengers last week, it's one of the more relatable and entertaining chapters of Infinity so far.
↓ Read the rest of this entry…