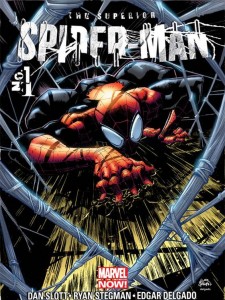 Editor's Note: I've come to say goodbye to my old life. A life wasted on spoilers and ruined plot twists. A man whose sole victory was cheating comic readers… by switching – ah, screw it. This review contains spoilers. Many. many spoilers.
I'm done. Done accepting things the way we are. I swear to you… from now on… whenever I'm around, wherever I am… …No one dies!
– Peter Parker
Okay, that's one way to end a comic book. But we'll talk about that later.
So here we are: the first issue of a Spider-Man comic with Otto Octavius riding the peak seat, and our first chance to see how he handles the, well, power and responsibility. And coming out of the events of The Amazing Spider-Man #700, that was a serious question; sure, we've known what Doctor Octopus is like for the past fifty years, and it seems unlikely that an arrogant megalomaniac like that is likely to turn over a new leaf just because he can suddenly see his dick for the first time since Eisenhower was President. But still, we've seen that Ock obtained access to all of Peter's memories and experiences, which could have an effect on Otto. So the question is: how does he behave as Spider-Man?
A lot like a supervillain, actually. But not in the way that you'd think.