As you are more than likely aware, there was an election for the Presidency of The United States last night, which means that we at Crisis On Infinite Midlives put down our comic books for a single evening, turned on our television, flipped back and forth between whichever channel was most likely to be displaying inordinate amounts of results-driven hysteria for the current maximum entertainment value (basically we started with Rachel Maddow screeching about hacked voting machines, and switched to Karl Rove apparently sending Megyn Kelly down to the poll office for a slice of pizza), and then waited around to hear if one guy or another called uncle. That took until about 1 a.m., which means that we are exhausted.
Combine those circumstances with the first Boston snowstorm of the year and the fact that it is Wednesday, and it means that this…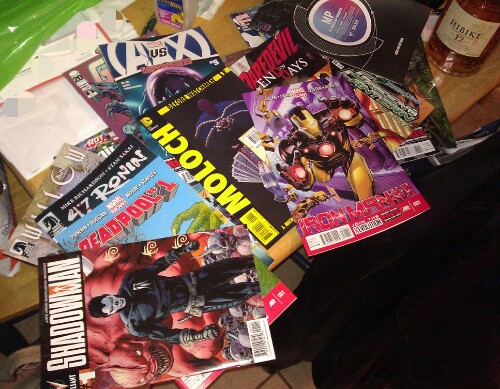 …means the end of our broadcast day.
However, befitting an election week, we have a comics week of new beginnings and ending. Including the first Kieron Gillen / Greg Land  Iron Man #1, Brian Posehn's Deadpool #1, Justin Jordan's Shadowman #1 for Valiant Comics… as well as the lamented final twelfth issue of Matt Fraction's Defenders.
But you know the drill: before we can review any of them, we need time to sleep off the electoral (read: Jack Daniels) hangover, as well as time to read them. So until that time…
…see you tomorrow, suckers!