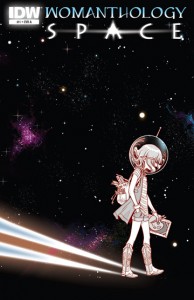 Yes, Wednesday evening, the end of Rob and Amanda's broadcast day. However, as I was dying from a head cold over the weekend (and have since miraculously recovered), I'm turning in my homework a bit tardy.
I first heard about the Womanthology project shortly after their Kickstarter.com fundraiser wrapped up in 2011. If you're unfamiliar with Womanthology, it all began with a tweet from artist Renae De Liz asking if her fellow female creators would be interested in creating and publishing an anthology to benefit charity. By the end of that day, over 100 contributors had taken up the call, and shortly thereafter, IDW came on board as publisher. The project quickly coalesced into the 300 page anthology, Heroic, with over 150 female contributors whose experience levels ran the gamut from professional to beginner.
I finally picked up Heroic this summer and have been all "what the hell took me so long" ever since. I have been slowly working my way through the volume, and although I've only reached the halfway point, as soon as I saw the announcement for the Womanthology: SPACE series, you'd better believe I was on the phone with my local shop to pre-order it.