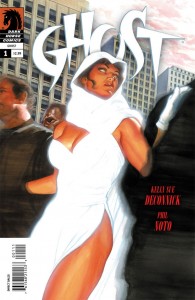 Editor's Note: But you're not fooling me, 'cause I can see, the way you shake and spoiler.
I have never read Ghost before – when it debuted in the 90s, I was busy being a snob, snorting at every comic with a twin set of boobs and guns as a rotten Image knockoff, and buying only Preacher, Shade: The Changing Man and Transmetropolitan – so it turns out that I was at a distinct disadvantage when I opened the first issue of the Ghost miniseries, written by Kelly Sue DeConnick and drawn by Phil Noto. Who would've known that being dropped into the middle of an ongoing story – even though it's labelled with a "#1" on the cover – would make it difficult to know who's who and what the hell is going on?
So you should be aware coming into Ghost #1 that if you haven't read any Ghost stories (ha!) before, you're likely to be somewhat confused. I'm sure there are a ton of comic readers who know who Ghost is, and why she doesn't seem to know who she is after 19 years of publishing history, and who these two dingbats she's traveling with are and what this box they're talking about is, why Ghost seems to be shoveling donuts down her maw every few minutes, who the spaz with the taste for needles and ball gags is, and whether or not the Mayor Bobby guy we meet mid-issue is the same guy with, shall we say, a skin problem, at the end of the issue.
I, however, am not one of them, so I was forced to dive in and swim. So the question about this book, for me, was: would I be able to overcome my ignorance about these characters and their backstory, and figure out just what the hell was going on?
Well, kinda.