Look, I'm not gonna lie to you: I'm a tad distracted this evening because I'm starting a new day gig on Monday. Which is not remarkable in and of itself, but what is remarkable is that my new boss called me today and said, "You need to get to know the guys. And that is best done over a serious amount of whiskey."
Still, Amanda and I managed to get to the comic store before getting to the bar where we still currently are, and between the team-building boilermakers and these new comics…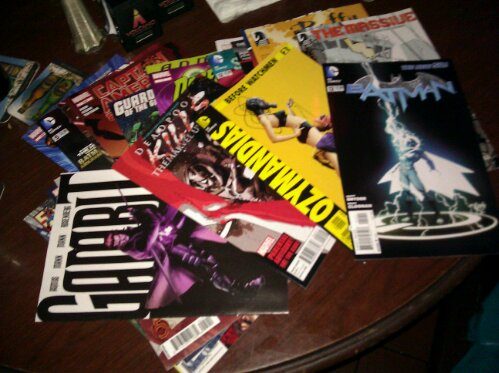 …it means the end of our broadcast day.
But trust-building falls that I ignored in favor of Jim Beam or no, that's a damn good take! We have a new Spider-Men, the first issue of Marvel's new Gambit series, a new Before Watchmen book, and a ton of other good shit!
But before we can review any of them, we need time to read them. So until I'm done trying (and failing) to show my new employers that I'm not a reckless alcoholic….
See you tomorrow, suckers!