on
March 14, 2013
at
8:41 pm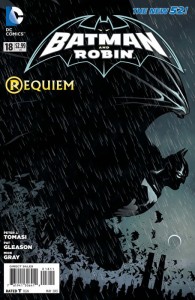 When DC leaked the news last month that Grant Morrison would be killing Damian Wayne in Batman Incorporated #8, the company claimed that the character's death would resonate across the main Batman Family titles, despite Batman Incorporated existing, since the New 52 reboot, in some strange continuity bubble that seems to lie outside of the New 52, and based on some weird editorial philosophy where all major decisions are tagged with the phrase, "…but keep Grant Morrison happy." In that spirit, one would think that, compared to the maintenance of continuity spreadsheets, last-minute story changes and line editorial late nights and headaches, it would be cheaper and simpler to just dump a truckload of peyote on Morrison's driveway, but whatever.
My big question at the time of the reveal was: how exactly were the other Batman Family creators going to handle this event? After all, Batman and Robin's battle against Leviathan from Batman Incorporated wasn't exactly something that had been addressed in the other books, and it seemed like those other writers already had plans for upcoming story lines. Hell, before Robin's death, Scott Snyder had announced he was embarking on a Riddler story in Batman before more recently announcing that instead he was gonna do a long-form Batman: Zero Year story focusing on Batman's early years, and while Riddler might be a part of it, it at least seems like a change of plans.
But my biggest question, that I couldn't address at the time without riddling the story with spoilers, was how this would affect Peter Tomasi's Batman & Robin, what with the tiny detail that Robin's name appears in the fucking title. And while other Batman Family titles have clearly just shoehorned Robin's death into previously-planned storylines as an afterthought (last week's Detective Comics simply mentioned it in a panel or two while Batman then went on his merry way attacking Penguin and Emperor Penguin as previously planned, and in this week's Batgirl the death gets a page and a half before going back to Barbara's fight with James Gordon, Jr), it's gotta be hard to move forward with any previously-existing plans when one of the title characters is taking a dirtnap. You know, until someone kicks his carcass into a Lazarus Pit (and you know this will happen).
So given the early efforts of the Batman Family titles to apparently simply slot the fact that Robin is dead into existing story plans (Please note that I don't know that this is the case. For all I know, Grant Morrison called a staff meeting with the Batman editors and creators a year ago and announced his plans over absinthe and some form of ritually sacrificed beast of burden, and it's just the half-assed executions that make it look shoehorned in), I was half-expecting for Batman & Robin #18 to be a standard Batman story with maybe some weird-looking camouflage art to cover where Robin was supposed to be, and a headset quickly pencilled onto Batman's head so it wouldn't look like he was talking to himself like an insane person.
I was wrong about that. Instead, Batman & Robin #18 takes Damian's death head-on, with the focus solely on Batman and how he is handling the event (short answer: badly), and makes use of a bold storytelling choice to make the reader empathize with Batman by almost forcing us to try to think about what we're seeing in his reactions. Suffice it to say that, if Robin's death in Morrison's playground was a forced afterthought in some of Batman's titles, it most definitely was not here.
↓ Read the rest of this entry…