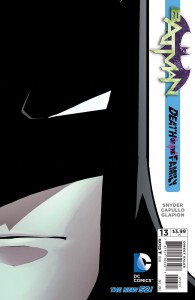 Scott Snyder spent a lot of his time at this year's San Diego Comic-Con hyping his Death of The Family storyline as one of the definitive Joker storylines of all time… and at the time, it sounded like an awful lot of hype. Here's what I wrote about his comments at the time:
"It really is our Killing Joke… this is an explanation of what makes The Joker special as a villain."

"He will rape and kill… and do everything to break you," Snyder said. "[We wrote The Joker] the most fucking twisted we possibly could."
All of which sounded promising, but let's face reality: there ain't a comic writer alive lucky enough to get to write the main Batman title, with The Joker as the villain no less, who ever said, "The Joker? Fuck that guy. He's no K.G. Beast, I'll tell you what. So yeah; I fucking phoned it in… what's that? Yeah, it's spelled L-O-B-D-E-L-L…"
So the hype kinda slid off my back at the time, but now it's three months later, and Batman #13, the first issue of the Death of The Family crossover, is out in comic stores. And sure, there's been a lot of excitement over the story, and yeah, the owner of my local comic store, where they know me by name and ask me not to ask the paying clientele if they want a dose of my "Joker Venom and / or Happy Juice," told me, "That's the way The Joker should be written," when he handed my my copy… but it's all just hype still right? That's the question I asked myself when I opened the book an hour ago, and…
Son of a bitch. Now that's The Joker.