on
June 14, 2013
at
8:31 am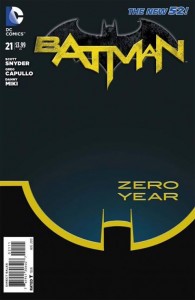 I bought Frank Miller's Batman: Year One, back when it was just Batman #404 through #407, from the spinner rack at my local supermarket for 75 cents a piece.
That story was a stone classic from the word go, right from the first issue, which opened with James Gordon telling us what a hell on Earth Gotham City was, and ending with Bruce Wayne not only bleeding out, but willing to bleed out unless he found some inspiration to make his war on crime more sustainable and effective than just trying to stomp out local goons. You know the images; we all know the images: the giant bat crashing violently through the window, the smile on Bruce's face, and the bloody hand on the bell to call Alfred, with the caption, "Yes, Father… I shall become a bat…"
I can spin that sequence of panels off from memory because Batman: Year One is Frank Miller, in 88 tight pages, telling one of the greatest Batman stories ever told (on the tails of Batman: The Dark Knight Returns, which is the greatest Batman story ever told, and I'll fight any man what says different), and cementing his position as one of the greatest comic storytellers ever, regardless of any future paranoid writings or rantings.
That was in 1987. It is now 2013, and we have the first issue of Zero Year, written by Scott Snyder, on the tails of Death of The Family, one of the best Batman / Joker stories in recent memory. Just based on the title, Zero Year is meant to elicit in us memories of Year One. And based on the events of this first issue of Zero Year, it covers some, if not all, of the same period of Batman's career that Year One did.
Look, don't get your hopes up here. Zero Year #1 / Batman #21 isn't on the same level as Batman: Year One #1 / Batman #404, and I think we all knew that it wasn't gonna be. After all, there is only one first love of your life, and when it comes to Batman stories, Frank Miller and Batman: Year One got to anyone old enough to buy comic books with their own money long before Scott Snyder ever put a word in Batman's mouth. So I could sit here all day and compare the new book – or pretty much any other modern comic book – negatively to the old one, but that really doesn't matter.
What matters is: does Zero Year #1 hold up on its own as a good Batman story?
↓ Read the rest of this entry…