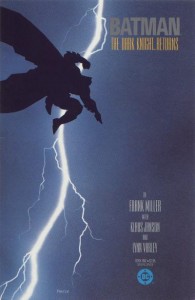 With all the recent excitement surrounding Christopher Nolan's The Dark Knight Rises, it's easy to forget that DC / Warner Bros. is busy putting the finishing touches on the TDKR movie that anyone who was reading comics in the late 1980s really cares about: the animated adaptation of Frank Miller's The Dark Knight Returns.
As someone who owns the first print issues of The Dark Knight Returns, plus the first print of the trade paperback, and the Longmeadow Press leather-bound Complete Frank Miller Batman from 1989 (including both The Dark Knight Returns and Batman: Year One, and no, it is not for sale), I am damned excited for this flick… and yet disappointed that we are getting it as an animated feature. Because any comic fan around 40 years old had dozens of conversations between 1986 and say, 1996, about who to cast in a live-action version of Dark Knight. My 1988 money was on Lee Marvin as Batman, Anthony Perkins as The Joker, and Christopher Reeve back as Superman… and given all their current availability, I guess I'll stick with the animated version.
Anyway, DC and Warner Bros. have released the first complete clip from the first part of the movie (It'll be two DVDs or Blu-Rays), and despite being only a minute or so long, I think you'll see at least one familiar image… from both The Dark Knight Returns and The Dark Knight Rises.