on
May 12, 2013
at
4:04 pm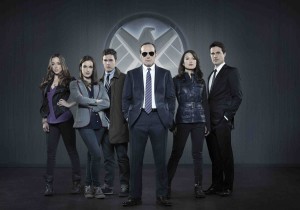 It is Mother's Day, and here at the Crisis On Infinite Midlives Home Office we are  celebrating with our mothers the same as everyone else – and yes, we have mothers. You know full well that we do, or else that pejorative people shriek at us on the street would have no bearing on us.
But still, comics news goes on, including the official Go-Order for ABC's Marvel's Agents of S.H.I.E.L.D. It was just a rumor on Friday, but as of Friday night it was confirmed on the show's Facebook Page… and that confirmation included the cast photo at the top of this article.
And yes, that photo does feature Clark Gregg as Agent Phil Coulson. Agent Phil Coulson who was apparently shanked in the kidneys by Loki in The Avengers. And yes, we knew that he was gonna be involved somehow in the series despite the minor handicap of apparently being stone fucking dead… but it seems he will be walking and talking, based on this short promo of the show released by the production, that you can check out after the jump.
↓ Read the rest of this entry…