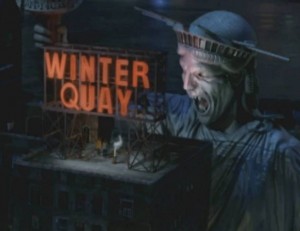 Well, I'll give last night's episode of Doctor Who this much: it made me queue up the Weeping Angels origin episode "Blink" on streaming Netflix to help me put my finger on what went wrong with "The Angels Take Manhattan". The short answer? Almost everything.
"The Angels Take Manhattan" was intended to be an emotional send off for the Doctor's most recent companions, Amy and Rory Pond. Here's a spoiler up front: the Ponds are sent away into the past to a fixed point in time where, apparently, the Doctor can never see them again. Given that it's been established that the Doctor needs to be around others on a near constant basis in order to remain somewhat centered, if not completely sane, the ending of this episode should have competed with Old Yeller for tear jerker of the millennium. However, convoluted story telling, hype, and lack of attachment to Amy Pond as a character worth caring about, as compared to other Companions, served to kill this episode in its crib.
More spoilery disappointment, after the jump.