on
May 9, 2013
at
9:08 am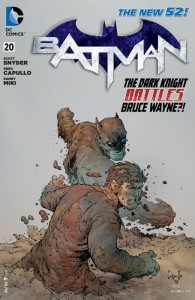 Dear creators working in DC's Batman office: there is a product available on the Internet called Skype. It is free. And it allows you create a virtual conference room, where you can invite any number of people to join, and then, you know, talk to each other.
I say this because there is obviously no communication happening about how Bruce Wayne is handling the death of his son. The writer of that death, Grant Morrison, has Bruce sucking down Man-Bat serum and going on a revenge rampage over in Batman Incorporated. Peter Tomasi has Batman scouring the world looking for a way to bring Damian back to life, including the psychological torture of the last Robin to get killed on his watch this month, and making an attack on fucking Frankenstein for answers last month.
And Scott Snyder, the writer of the main Batman title? Well, as a guy who has to turn in a comic book during this whole, sudden, "Damian's-Dead" shitstorm, he has Batman affected by the event in the margins, while making the meat of the story a decent, if workmanlike, two-and-done featuring an antagonist no one really cares about, and a big Easter Egg in this week's Batman #20 to delight the rubes (I was certainly delighted). However, as a guy who has reached A-List status at DC in the past year and a half, with arguably as much pull as Morrison, Snyder has clearly said, "Um, yeah: I'll give you a couple issues mentioning this death, but this is Grant's problem. I think I'm gonna scrap my Riddler plans and do a year-long story set in the past while you guys deal with the fallout from the whims of that crazy Scottish fucker."
So if it seems every Batman writer has picked a different stage of grief to stick Bruce Wayne into over the death of his son, Snyder has clearly chosen "Acceptance." Which means, at the very least, that it is the less histrionic of the two Batman titles on the stands this week. But the question is: is that enough to make it any good?
↓ Read the rest of this entry…