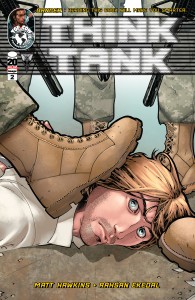 Think Tank is Real Genius with more realistic technology and without Val Kilmer. That doesn't mean it isn't fun to read.
I missed the first issue of Think Tank last month; contributor Trebuchet brought it to my attention over car bomb shots a few weeks ago, and I wasn't able to get my hands on it until this week's second issue release. And frankly, I wasn't expecting to get a hell of a lot from it; jumping into an Image-published book by a creator who's only written a handful of books (the last of those apparently coming out in 1999) can be a dicey proposition when it comes to following what's going on. When you throw on top of it that the writer is actually a Big Cheese at the publishing house releasing the book, and I was expecting to be thrown off the deep end into an incomprehensible story, where all the setup had happened in the first issue, with no clues as to how to pick up what was going on because no one wanted to edit the boss's work (that kind of thing seems to be going around these days).
Instead, I found a user-friendly experience where I got the gist of where we were, with some interesting back story about the protagonist, some good character work establishing that character and the supporting characters as multi-layered and interesting, and laying the groundwork for what looks to be a cool escape story coming in the future.
But yeah: writer Matt Hawkins has totally seen Real Genius a bunch of times.