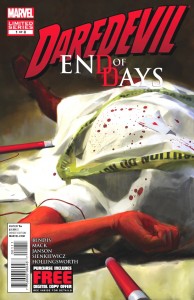 EDITOR'S NOTE: He is Daredevil, The Man Without Fear! Of Spoilers!
One of the main reasons cited for the runaway success of Mark Waid's run on Daredevil (Eisner awards for Best Writer, Best Continuing Series and Best Single Issue tend to be indicative that You Done Good) is that Waid depicts Murdock as a more positive character than he has been since Frank Miller revamped him in the 80s. Waid successfully broke from the years-long general formula for a good Daredevil story, which was to throw some terrible hardship at Murdock and watch him go nuts for a while.
That, however is Mark Waid. Daredevil: End of Days is written by Brian Michael Bendis, who wrote Daredevil from 2001 to 2006, and who put Daredevil through trials like revealing his secret identity, accusing him of murder, and having him marry a woman who goes violently insane and requires commitment… and not the good kind where people throw you a party and give you salad spinners, but rather the kind where the jackets tie in the back and the big blue pills don't give you a boner.
So will Bendis's take on this supposed final Daredevil story embrace the Waid's more positive take on the character? Sure! Provided you get a warm fuzzy feeling over seeing the title character murdered in the street in broad daylight on page four! But that's okay, because this Daredevil comic book isn't really about Daredevil!
Depressed and confused? Don't worry; stick with me and we'll work through this. And it is generally a comic book worth working through.