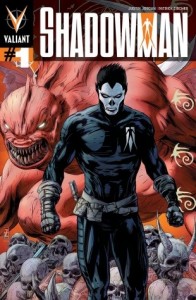 Editor's Note: My name is Spoiler, for we are many.
I've said a few times recently that the number of comic titles I was buying back in the early to mid-90s totalled about three or four, with most of them being Vertigo books. There was some reasons for that, one of them being that I was stone broke, and where the rubber hits the road, you can't go out, drink a comic book and try to get laid.
But the primary reason was that, in the immediate post-Image Comics era, a lot of comics were simply and truly hammered shit. And they were crap for a lot of reasons, but most of them boiled down to the simultaneous rises of the Age of The Artist-Driven Comic, and the Swelling of The Speculator Who Didn't Give A Shit About Comics Beyond Using Them To Pay For Little Austin's College Education. So as far as I was concerned, I was seeing a fuckton of books with heavily-stylized covers, new publisher names I'd never heard of, a big ol' "First Issue! Collector's Item!" splashed in chromium… and, having read a bunch of these books before tuning out, no story inside whatsoever.
The point is that, when Shadowman debuted back in 1992, I had already begun my early 20s snobbish migration away from stylized superhero comics, and probably turned up my nose at it. Throw on top of that that I didn't ever have the money for a videogame console until the first XBox came out, it means that I never played the Shadowman videogames by Acclaim, the company that bought Valiant to mine their intellectual properties for games and promptly ran the comics division into the ground. So I have no background whatsoever in the character of Shadowman.
This is kind of a problem when it comes to reading Shadowman #1