on
June 7, 2013
at
9:47 am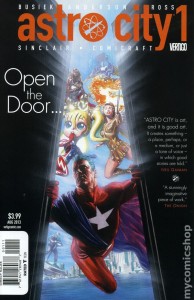 Astro City is good. It has always been good.
For 17 years, across multiple miniseries and a variety of publishers, writer Kurt Busiek and artist Brent Anderson have come up with a generally can't-miss formula: create a city that has neighborhoods that match up to the Marvel, DC, and even EC horror comics universes and populate them with a mix of existing superhero and villain pastiches and some original characters. Then throw in a general population of people more fully realized than the average running, screaming, goggle-eyed cannon fodder that's normally trampled underfoot in a world of superpowers. And then not only turn them loose, but tell us what some of them, from the strongest hero to the worst villain to the average schmuck on the street, are thinking about the whole experience.
That formula has allowed the creators to examine some of the biggest eras and characters in comics, from DC's Justice League (Samaritan, Winged Victory and the rest of The Honor Guard) to Spider-Man (If Jack-In-The-Box isn't supposed to be Spidey, then please call 911, because this massive stroke is impinging upon my critical faculties) to the 80s darkening of comics in The Dark Age. And the use of pastiches has allowed Busiek and Anderson to really dig into some of these old stories and eras without having to worry about servicing any trademarks, or pesky editorial interference like being fired from the book after it's solicited.
And now Astro City is at Vertigo, and Busiek seems to have decided to take that opportunity to, well riff on Vertigo comics. Specifically those early, proto-Vertigo books, where the characters still lived in the DC Universe and bumped into superheroes every now and again. Because this time around, the pastiche is pretty clearly Psycho-Pirate from Grant Morrison's 80s run on Animal Man (with what seems to be a Galactus story brewing), and while that parallel all but screams from the page and colors your expectations, it is actually very, very compelling.
Because Busiek isn't just acknowledging the reader… he's involving us.
↓ Read the rest of this entry…