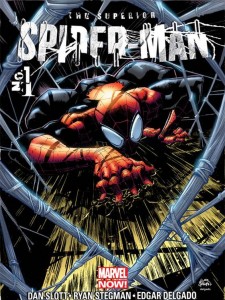 So yeah – turns out they were talking about Spider-Man.
Yesterday was the retailer's breakfast at New York Comic Con where The Amazing Spider-Man writer Dan Slott announced what the hell "Superior" stood for, and apparently he then turned right around and told USA Today that, following the sooper seekrit events of the upcoming Amazing Spider-Man #700 – which will mark the end of that title, at least until someone at Marvel realizes there's money to be made in releasing a book with the words "Spider-Man" and "800" on the cover – he will be writing a book titled The Superior Spider-Man about… some guy in a Spider-Man suit.
A guy who might, or might not, be Peter Parker.
"I've always been the omniscient hand that's been protecting Peter Parker and Spider-Man, and not letting anything too bad happen to him," [Slott said]. "And now I've become this cruel god. There's something exciting about that, about going, 'Mwah-ha-ha-ha-ha, here is what's going to happen to you, Spider-Man!' And it's drastic and it's big and it's exciting and it's never been done before."
So here's what we know: Slott says that in The Amazing Spider-Man #700, Doctor Octopus has only one day to live, and he knows that Peter Parker is Spider-Man, and he is going to do something unfriendly to Pete. And whatever that thing is, it is going to lead to a somewhat darker Spider-Man.
So what do you have in mind, Dan?