on
November 2, 2013
at
12:17 pm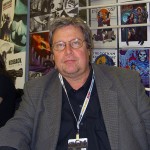 It's a good thing that, for good or ill, Vertigo Comics has got some Sandman back in the fold for at least a little while, because their arguably final big series from their second wave of glory days is coming in for a landing.
That's right: Bill Willingham has announced that Fables will be ending with issue 150 in about a year and a half, with its spinoff book Fairest closing out at about the same time.
This is… not particularly welcome news.
So what's up, Bill?
↓ Read the rest of this entry…