SDCC 2012: DC's The Edge And The Dark Panel. Oh, and Neil Gaiman's Returning To Sandman
on
July 13, 2012
at
10:50 am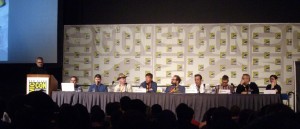 First of all people of San Diego: it's a fucking e-cigarette. It emits water vapor. So please stop passive-aggressively giving me shit when I'm using it on a public sidewalk, out of doors and approaching the convention center, by muttering, "Nothing I like better than a faceful of cigarette smoke blowing into my baby's face…" Let's clear the air here (ha!): my e-cigarette emits no odor and bothers no one, unlike your little bundle of squalling fecal production. And since my e-cig doesn't even burn, the San Diego Fire Marshall even considers it less of a fucking fire hazard.
Okay, I feel better now. Now that we've got my personal news out of the way, let's talk about what's been happening at SDCC 2012 that doesn't involve self-righteous self-absorbsion.
The actual programming at SDCC started in earnest yesterday, featuring panels on everything from homosexuality in genre fiction to Twilight: Breaking Dawn Part II. (Rob: This may be redundant. Consider editing. -Amanda)
We, however, chose to focus on some of the comics-related panels, specifically the three DC Comics panels: The Edge and The Dark, Batman, and DC Now. Why the DC panels? Well, the reality is that we're a small operation and can only focus on one panel at any given time. And DC had three panels yesterday (not counting the Vertigo panel, which we missed and it turns out was the Money Shot from yesterday's panels, but we'll get to that in a minute) to Marvel's two, and one of Marvel's was purely about how they plan to put comics on your cell phone, whether you really want them or not. And while we would have hung in for some other panels, well, unlike some other comics news / opinion organizations, this one had a greasy patty melt and tater tots for lunch yesterday and thus decided it would be more comfortable for everyone if we concluded coverage after the DC Now panel.
The crux of DC's announcements yesterday revolved around their upcoming month of "issue 0″ books, and the course of DC's New 52 in its second year. And between all three panels, pretty much all the major titles were covered… for good or ill.
There is some exciting stuff coming from the DC Dark titles in the coming months; after a year of setup, Jeff Lemire and Scott Snyder are pulling the trigger on the Rotworld crossover between Swamp Thing and Animal Man, starting with each book's respective thirteenth issue. And the concept has expanded so that we can expect to see ramifications, if not full-on crossovers, into the non-Dark DC Universe (As an example, Hawkman's appearing on the cover of Animal Man #13. "It's a lot bigger than Animal Man and Swamp Thing," Lemire said.
The Rotworld event is also definitely going to involve Lemire's Frankenstein: Agent of S.H.A.D.E., Lemire confirmed. While Lemire said that Rotworld was originally "going to be constrained to those two books," the event will cross into Frankenstein in issues 13, 14 and 15 in a story called Secrets of Rotworld… concluding with Frankenstein joining the Lemire-written Justice League Dark. Which Lemire makes sound just fucking cool (although I still miss Shade The Changing Man). "Writing Frankenstein / Constantine dialogue is about the most fun I have," Lemire said, describing a litany of insults between the two that I'm frankly looking forward to checking out. My guess is that the JL Dark comes to San Diego and Frankenstein bitches about Constantine's cigarette. But I digress.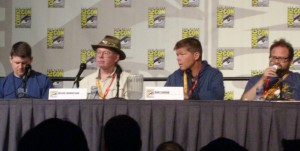 And then there's Deathstroke. Which means that there was Rob Liefeld. Who spent a bit of time reminiscing over the 80s and 90s with panel moderator Bob Wayne, either in an effort to remind us of Liefeld's storied history with DC Comics, or in an effort to appear human.
To be fair, there is no denying Liefeld's enthusiasm for working on Deathstroke. In Deathstroke #0, Liefeld will be laying down the groundwork for Slade Wilson's origins, which will include describing his history with his original military career and his covert ops work with Grifter and Black Canary, to set up Justin Jordan's upcoming Team 7 title. Which makes a certain amount of sense, since Liefeld is also taking over the Grifter title, the news of which originally caused Crisis On Infinite Midlives contributor Trebuchet to load his pants. Like he'd just eaten a greasy patty melt and tater tots for lunch.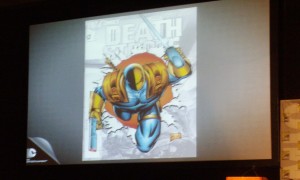 In Grifter #0, Liefeld's introducing a new character, Warwick (I don't know if that's spelled right. Liefeld wasn't taking press questions, and even if he was, I'd be afraid that once I identified myself, he'd cut off my feet for drawing reference purposes. Which frankly might not hurt for him. But I digress), in attempt to ground Cole Cash. "We give Grifter his Yoda," Liefeld said, "Grifter has been a bit of a lost soul… [this] sets up a big arc in the fall." That big arc includes a Voodoo crossover (someone get Trebuchet his smelling salts) in Grifter #13. "All these Wildstorm characters are coming together," Liefeld said, "What's up with that?" So if you're an old Wildstorm fan, things might be going your way come fall. And if you're a New 52 Wildstorm fan, well, the 90s are back; even No Doubt has a new album coming out, and this will all pass come the next decade.
And then there was Jimmy Palmiotti talking about All-Star Western. If you're ever at a comic convention and Palmiotti is doing a panel there, you owe it to yourself to go. The dude is flat-out entertaining and funny, at one point saying, "You know what? Looking at this panel, now I know the real comics people [at the convention]." Dude told an anecdote about a guy staring at him reading comics on the flight to San Diego ("I could feel him watching me… I was wearing pants, so I asked him…) who was coming to the convention and had no idea what he was going to do here that hooked the comics fans in the crowd right in. I am a cynical prick and former comedian with a sense for crowd pandering, and I was entertained by the guy.
But back to All-Star Western. The title's upcoming issue #0 tackles the new origin of Jonah Hex. "He's had a bad life, and he's made the best of it," Palmiotti said. But the real meat was in what's coming starting in issue #13.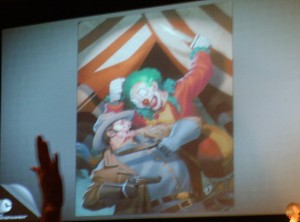 "Is anyone else here afraid of clowns?' Palmiotti said. "Clowns are evil." While readers of the book understand the significance of seeing a rampaging clown in Gotham City, Palmiotti said that the story won't tip any specific Joker references, only that people in Gotham are being drugged with something that's "driving them a little crazy," and that "there are a lot of clowns here… Jonah starts shooting clowns… did I insult a clown today?" Liefeld did not respond.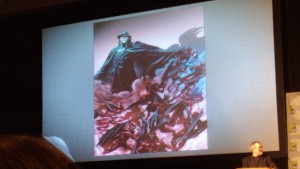 DC also gave us a taste of the upcoming Phantom Stranger book, written by Dan DiDio with art by Brent Anderson, who wryly said that he took the took the project on because, "I like drawing hats… he wears hats." Anderson said that the book is going to be darker than you'd expect from the former writer of O.M.A.C. In addition, we learned that the upcoming Amethyst will not only reintroduce that character, but will include a backup story – Beowulf -  written by Tony Bedard and drawn by Jesus Saiz.
And here my notes get a little off-kilter. If I'm reading my own writing correctly, I was thinking, "Why is it they put all the comics panels next door to the LOUDEST FUCKING PANELS? It sounds like they're testing the effects of a subwoofer on howler monkeys next door!" Ah yes; it's because something was bleeding through the walls that was noisier than shit. "Is there a roller coaster next door?" Palmiotti said.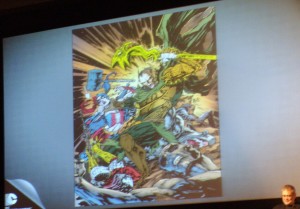 Anyhoo, Suicide Squad writer Adam Glass announced that the 0 issue will give us the origin of Amanda Waller, as she is in the New 52, and starting in issue 13, the Basilisk storyline will start to ramp up. "It gets bloody," Glass promised, "It gets pretty messy." And I, Vampire writer Joshua Fialkov announced that the 0 issue will reveal the origin of protagonist (hard to call the king of all vampires a "hero") Andrew Bennett, followed by a story arc where antagonists the Van Helsings (and why do all writers of vampire stories all back on tropes from Dracula? Where's the love for the deep, epic mythology of Once Bitten?) turn into zombies.
The Edge panel then took some questions, which led to the first real money-shot spoiler of the day: Tim Hunter, the hero of Neil Gaiman's The Books of Magic, will be appearing in Justice League Dark. According to Lemire, it's happening with Gaiman's personal blessing, calling the discussion with Gaiman one of the most exciting he's ever had. Then one panel attendee quipped that "Before Sandman" would be a really bad fucking idea, which led to nervous laughter from the panel…
And to the second money-shot of the day. Which occurred during the Vertigo panel. Which we missed. But was where it was announced that Neil Gaiman would be working with Batwoman artist J. H. Williams III. On, well, Before Sandman.
Or at least a reasonable facsimile. It will be about… well hell; I'll let Gaiman explain it.
Neil Gaiman returning to Sandman is huge. And it's the kind of news you only get at SDCC. And it's the kind of news that's damn hard to report… because I'm well over a thousand words into this report, and I haven't even gotten past the Edge and The Dark panel yet.
So I'm gonna run down to Starbucks and its free Wi-Fi, put this dispatch on the wire, and start writing up the Batman panel, which I will try to post before we hit the floor in two hours. So let me run… provided I don't run into Rob Liefeld, and he doesn't want that photo reference after all.